An LGBT MS'ers reflection
When I was around 15, I used to wish I could see into the future and get a glimpse of what my life would be like at the age of 25.
I can't be the only person to have day dreamed about the infinite prospects of the future.
Growing up in Swindon I wanted to know I would work hard and do well. I imagined having a boyfriend with classic good looks, living in a fabulous apartment, eating in unnecessarily expensive restaurants and so on.
Not once during this wishful thinking did I think by the age of 25 I would have already had optic neuritis, balance difficulties and lower limb numbness.
I am now 29 and living as a gay man in London. If it wasn't for the MS thing, my 15 year old self would be quite pleased with how things have turned out.
An MS diagnosis wasn't in my plan
When I was 22 I woke up the morning after the Notting Hill Carnival and struggled to see. I thought it was something in my eye and that it would improve on my walk to work.
But as the morning progressed it got worse. I worked at University College Hospital at the time as a physiotherapist so I went to get it checked out. I was told I might have optic neuritis.
At that moment I remembered that two years previously I'd had a numb leg for several weeks. I linked the two together and knew I had MS. After an MRI scan I got my diagnosis.
It was like: oh f**k. I did not see that coming. That wasn't in my plan, something that doesn't have a cure at the moment, is unpredictable and would affect my future. So it was quite heartbreaking.
Now my MS is well managed
I'm living really well with MS now – I haven't had a relapse in about seven years. It's well managed and I'm able to do the things I want to do.
I moved up the NHS ranks fairly quickly and am now the clinical manager of a rehab service, managing a team of about 100 people. I'm looking to move to NHS England at the end of the summer to work as a clinical fellow.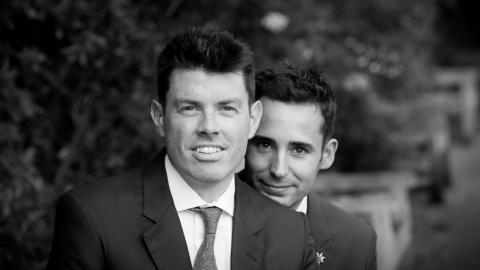 And I've just married my partner Ed – we were together when I first got diagnosed. We had a garden party style wedding with a big marquee. The main objective was to ensure people were well lubricated! We had three bands and a drag queen.
The day was fantastic and everything I could have hoped for.
Being positive about life with MS
I don't tend to tell people I have MS, but MS is part of my identity. I feel quite young with it at the moment and it's more of a background thing.
I want to focus on the positives, so a few years ago I got in touch with the Gay Times about telling my story and they ran a feature on me. That had some good feedback from the LGBT community.
For me the positives of living with MS is that it's led me to live far more in the present, do more with my life and say yes to things I might not have previously.
I've become more outgoing, and more empathetic of other people with disabilities. I think it's made me a better and more adventurous person.
Living for the moment
If I told my 15 year old self about MS he wouldn't know what it was. But otherwise I think he'd be pleased with how life is. I've got to a good place in my career and live in a suitably fabulous apartment with my husband – who has the classic good looks my teenage self dreamed he would!
Now my 29 year old self wants to see another ten years into the future. On my 40th birthday am I going to be walking around or using a wheelchair. What's going to happen?
I thought Selma Blair at the Oscars made such a statement. I don't need to use a walking stick like her at the moment, but I'm sure if I did it would be a fabulous one.
I'd love to keep doing well in my career and to travel a lot more. I've already done the London marathon and a skydive to raise money for the MS Society and I'd like to do more – I think I'm pretty good at getting out there and talking about MS.
I'm trying not to focus too much on the future though – I'm focusing on the present.
Raising awareness online
This year, Pride celebrations across the country are moving online - and you can join us! Add a frame to your Facebook or Twitter profile or a sticker to your Insta story today.
To add stickers to Instagram, first start a story by clicking the + on your profile pic then search MS Society to find our sticker.