Stop MS Pioneers
We know what everyone with MS wants - no relapses, no build up of disability and no uncertainty. And we know science can take us there.
MS affects more than 130,000 of us in the UK. It's often painful and exhausting and can cause problems with how we walk, move, see, think and feel. But it doesn't have to be this way. Our Stop MS Appeal aims to raise £100 million for research to help everyone with MS.
Find out how you can help make research history. Email Sian Welfare at [email protected] or call us on 020 8438 0773.
Incredible breakthroughs are on the horizon
To unlock them, our research programme will concentrate on three areas to Stop MS:
Slowing and stopping progression: we're researching advanced techniques that repair myelin and protect nerve cells.
Prevention: we'll understand more about what causes MS and the factors that influence your chance of developing it.
Managing symptoms: we'll develop more support and treatments for symptoms like pain and fatigue.
This is where our Stop MS Pioneers come in.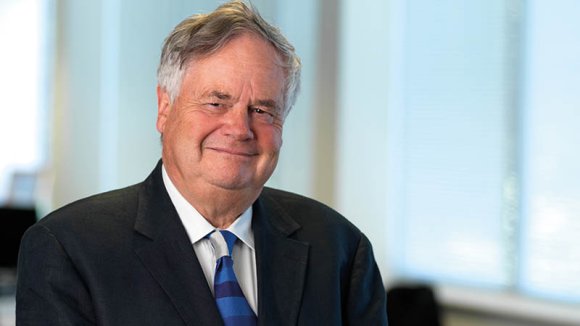 This research could transform the quality of life of the 2.3 million people across the world affected by MS. With your help we can make medical history. Together we can stop MS.

Sir David Bell, Stop MS Pioneer Chairman
Stop MS Pioneers transform lives
Join a group of companies, charitable trusts and philanthropists who make our pioneering research programme possible. You can help underpin our stop MS research programme by supporting:
talented young MS researchers through their PHD studentships so they can work on the breakthroughs our community urgently needs
our world-leading MS Tissue Bank: Supplying samples for MS research globally
the MS Register: Revolutionising our understanding of MS
the UK MS Clinical Trials Network: Our unique network of leading researchers
our Research Programme Team: Leading on developing our world-class Stop MS research programme.
Meet some of our Stop MS Pioneers
Philanthropists helping stop MS
Richard and Lesley Astle
Jeffrey Azouz and Carol Sachs
Sir David and Lady Primrose Bell
Adam and Zoe Bennett
Barclays Bank
Benjamin F. and Susan Crane
CH&CO
Citibank
Equistone
Colin and Lucy Evans
Fenchurch Advisory Partners
Michael and Deborah Fiddy
Finecast
Teresa Graham
Nigel and Sarah Hammond
Rodger Hill
Tim Jones
Jacqueline and Bill Krarup
Andrew Lyndon and Vivien Joanne O'Connor
Ian Marchant
Elizabeth McMeikan
MiQ Digital
Mobsta
Monument Re
Peter Phillips
Phoenix Group
Nick Rabin
Richemont International
Sir Simon Robertson
Royal London Group
Stuart Secker
Ben Slater
Keith and Christine Swabey
The Marsden Family Charitable Trust
The Pixel Fund
The Andor Charitable Trust
Vespa Capital
Dr Tony and Janie Watson
Sara Weller CBE
Dame Jacqueline Wilson
Mark Wood CBE