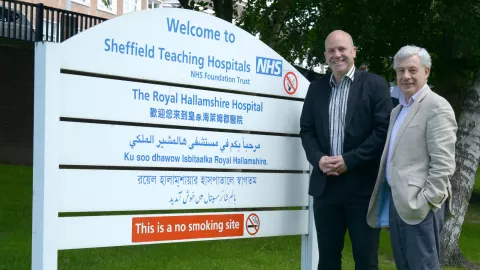 Meet the Professors behind stem cell transplantation
What role does the centre in Sheffield play in the UK MS HSCT landscape?
JS: The centre is one of two in the UK leading the way in HSCT treatment clinically and scientifically.
BS: We are also co-investigators on the international MIST trial - we're working in collaboration with researchers in the United States, Sweden and Brazil to determine safety and effectiveness of AHSCT in MS.
What are your roles at the centre?
BS: I'm a neurologist and head of MS research at the centre.
JS: I'm a haematologist and head of the bone marrow transplantation programme at the centre.
And how do you work together?
BS: Patients are referred to both of us and in each case joint assessments are carried out, in my case from a neurological perspective and for Professor Snowden from a haematology perspective. Then together we decide whether treatment is appropriate.
JS: If we agree to go ahead, the treatment will be carried out by my team. Afterwards, we're both involved in long term follow up. It's very much a joint venture and working in the same building makes this easier - we're quite a unique centre in that respect.
Can you tell me a bit about HSCT and how it actually works?
BS: It works by resetting the immune system to stop it from attacking the brain and spinal cord.
One thing we should say is this type of treatment can't rebuild nerve cells so if damage has already been done it won't help. For this reason we've seen success with this kind of treatment in relapsing but not progressive stages of MS.
What would you say to anyone exploring the option of HSCT?
BS: Consult with your neurologist. They will be able to advise and refer you to a centre if they think the treatment could be effective for you.
JS: HSCT isn't appropriate for everyone which is why thorough assessment is required. The treatment's most likely to be effective in people who've had relapsing MS without progression for less than 10 years and have experienced active relapses in the previous 12 months despite the use of a disease modifying therapy.
How difficult is it to access HSCT in the UK at the moment?
BS: If reviewed by a multi-disciplinary team with experience and deemed suitable for the treatment then people should be able to receive HSCT through the NHS.
What is still left to learn about HSCT?
BS: First we need to see the MIST trial completed. Ideally a further trial then needs to be designed to answer further outstanding questions. Ways to refine and optimise the current treatment are being explored as well.
JS: We need to understand more about the long term effects too. All patients receiving HSCT in the UK will be registered in bone marrow transplantation databases to allow long term follow up.
What is the future for HSCT and MS?
BS: Unfortunately this particular treatment won't be suitable for people with progressive MS, but for the group of people it has been effective in so far we hope to continue to see the positive effects it has on people's lives.