HSCT: what to expect
HSCT is a hugely promising treatment for MS, but it is also very aggressive. This means that it comes with high risks and there are lots of factors to consider.
Read the latest information about DMTs and coronavirus COVID-19
If you're considering having HSCT, we recommend you talk to your neurologist about whether it's the right treatment for you. You can also read the European Group for Blood and Marrow Transplantation (EBMT) guidelines for HSCT on the EBMT website.
Do I qualify to get HSCT?
HSCT is available on the NHS for people who meet very specific medical criteria. These are based on the EBMT guidelines for HSCT, but may differ a little from centre to centre.
Because HSCT targets the immune system, you need to have evidence of active inflammation (new MRI lesions) for doctors to refer you for treatment on the NHS.
The best evidence that HSCT works is in people with relapsing MS who are under 45, have an expanded disability status score (EDSS) of 5.5 or less and have had MS less than 10 years.
Who qualifies for this treatment differs slightly between the HSCT centres in Sheffield and London. But in both centres treatment is suitable when the patient:
is aged 18-56
has been given a diagnosis of MS using the McDonald criteria
has signs that their MS is  'active' disease. This means they've had at least two relapses or T2 MRI lesions in the last 12 months, despite having been on DMTs
has not responded to at least one of the harder hitting DMTs (including natalizumab or alemtuzumab)
has an EDSS score between 0 – 6.5 (you need two sticks or a rollator frame to walk).
For those with relapsing MS you need to fit the above but also have:
documentation that disease modifying therapies have not worked after six months of treatment. You need to have had relapses, new or growing lesions on your MRI scans or your EDSS score has gone up, showing that your MS is getting worse.
People with early progressive MS may be considered if there are still signs of active inflammation (either relapses or lesions on an MRI).
Read more about getting treatment for MS
What happens during HSCT?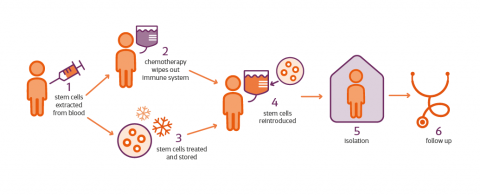 Anyone being considered for HSCT will first be reviewed by the specialist team at the treatment centre.
The treatment begins with drugs to encourage HSCs to move out of your bone marrow and into your blood. This is known as mobilisation, and allows them to be collected. The symptoms of MS can get temporarily worse during this stage. Around 10 days later, when there are enough stem cells in your blood, they will be removed and stored for later in the procedure.
Next, chemotherapy is given as an infusion to wipe out the immune system. This part of the procedure can take several days. Chemotherapy may be myeloablative (completely wipes out the immune system) or non-myeloablative (partially wipes out the immune system). The side effects of chemotherapy include nausea and vomiting, so you may be given drugs to control this.
Finally, your stem cells are transplanted back into your blood by a drip to help regrow the immune system. This usually takes place a couple of days after the chemotherapy, once the drugs have cleared your system.
The stem cells start making new blood and immune cells within 10 and 30 days of the transplant. As your immune system isn't working yet, you are more likely to get infections during this period. You're usually put on antibiotics and transfusions to support you.
Anyone having HSCT also has to spend around a month in an isolation room while their immune system rebuilds. This isolation can be lonely and challenging.
HSCT is an aggressive treatment, so recovery can take some time. Typically, people need between 3 and 6 months to recover from HSCT. But for some people, it can take more than a year to fully recover.
What should happen after treatment?
The transplant unit should organise regular outpatient monitoring in the first 2 years following the procedure and afterwards if needed
Patients should be able to self-refer into a haematology or other department familiar with HSCT on a 7-day 24 hour basis
The risks of infection persist for long periods after HSCT and antibiotics are recommended for many months, or sometimes even life-long
Long term monitoring must be backed up by patient data being held by the European Bone Marrow Transplant Registry
What are the risks of HSCT?
HSCT has seen some very positive results, but it is an aggressive treatment that is more toxic than other DMTs. This means it comes with high short and long-term risks and complications. These include:
an increased, long-term risk of developing infections
an increased risk of developing cancer and autoimmune conditions, such as thyroiditis
early menopause
fertility problems.
The chemotherapy has its own side effects too. These include an increased risk of bleeding and bruising, fatigue, loss of appetite and hair loss.
For people with a higher level of disability before the transplant, chemotherapy can also do more harm than good. Chemotherapy treatments can lead to your mobility getting worse and a worsening in how your nerves work.
According to a European register, one or two in every 100 people (1.3%) having HSCT in clinical trials have died as a result of the treatment. But since 2005, the mortality rate has dropped to around 1 in 330 (0.3%).
What are the benefits of HSCT?
Clinical trials into HSCT have shown that HSCT is able to reduce relapses – mainly for people with relapsing MS. For some people their symptoms stabilise or get better, or their disability improves. But these improvements don't always last.
For progressive MS, we've seen some encouraging results for people treated early on in their condition, and where there's still signs of inflammation (on an MRI scan, or in the shape of relapses). HSCT has been shown to slow down how fast MS gets worse in a few people who have early secondary progressive MS.
Unfortunately, HSCT hasn't worked as well for people with progressive MS who no longer show signs of inflammation and who have high levels of disability.
> Read more about HSCT clinical trials
How do I get HSCT?
There are different ways of getting HSCT for people in the UK, including through the NHS. We're working to help people with MS understand these routes and to get access to the right treatment for them.
Through the NHS
HSCT is available on the NHS. At the moment, it's only considered as a third line treatment for people who meet very specific medical criteria, including evidence of inflammation, such as two relapses in the last year or new lesions on recent MRI scans. A third line treatment means it will only be considered for people who have tried two different DMTs (including one of the more aggressive DMTs) and these have failed to control their MS.
The main hospitals offering HSCT for MS in the UK are Sheffield and London (King's College and Imperial College). The criteria vary slightly between them, so it's worth checking with your neurologist about which place would suit you best. People in Wales, Scotland and Northern Ireland who qualify to get HSCT might be able to have the treatment at these English hospitals. If you don't meet the criteria used by these three hospitals, you could speak to your neurologist about getting HSCT through an individual funding request.
Going private
You can have HSCT privately at the centres in Sheffield and London. Again, these two places have different rules about who qualifies to have HSCT.
Going abroad
If you don't qualify for HSCT on the NHS, it's possible to get the treatment abroad. There are places in Mexico, Russia and India that we know offer the treatment. This option is very expensive, and not always safe, as not all clinics work to the same safety standards as the UK. There's also no guarantee that the treatment will work. We would urge anyone thinking of going abroad for treatment to first talk their options through with their MS nurse or neurologist.
> Read more about having HSCT outside the NHS
Getting HSCT and the MS Society
We're working alongside HSCT experts to help make sure people with MS can get treatments that are right for them at the right time. This includes HSCT.
We're pleased to hear phase III clinical trial will be recruiting participants across 18 sites in early 2020. We're disappointed that the National Institute for Health and Care Excellence (NICE) decided not to carry out  a review of the treatment, which could have seen HSCT made routinely available.
The Scottish Health Technology Group is now looking at what's needed to develop centres that can carry out HSCT in Scotland, and we hope to have a decision on this soon. In Wales and Northern Ireland we're aware of a small numbers of people being referred for HSCT in England, but access remains very limited.