Big MS Run Off
Challenge yourself with your very own My MS Run! Take part in our 100k your way challenge or pick your own distance. Take on the miles by yourself or as a team, and help us make sure no one has to face MS alone.
Challenge yourself and compete in our one-of-a-kind virtual run this November. Take on the miles as part of a team of runners from all over the UK, and together we can stop MS.
We're calling all MS Superstars to take part in Big MS Run Off this November.
This has been quite the year. 2020 has got in the way of so many things we usually enjoy doing. With events being cancelled across the UK, we've missed seeing our MS Superstars this year, but we want to end the year on a high.
Can you join us in our one of a kind virtual running challenge? To make things a bit different, we hope you'll be up for some friendly competition!
Join a team, compete to run as many miles as possible, and help stop MS together.
How to take part
Sign up on JustGiving
We'll add you into one of our two teams
Get regular updates from your team captain
Compete with the opposition to cover as many miles as possible in November
Log your miles on a fitness app like Strava, or send us a picture so your miles can be added to your team's total
Join us for a live online event at the end of the month to celebrate your achievement
Sit back and relax! You've done something amazing.
Every mile will count towards your team's total. Whichever team wins, MS loses!
Will you be Team Alan or Team Angharad?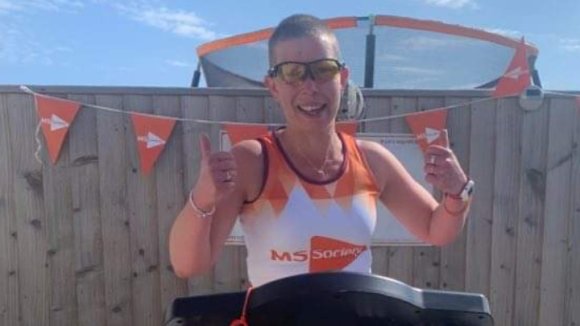 Hi! I'm Angharad. A 43 year old mum of three from Pembrokeshire West Wales. I was diagnosed with relapsing MS in October 2018. After the initial shock, came determination to not let it beat or define me. Exercise is most definitely my coping mechanism, mentally, physically and overall wellbeing.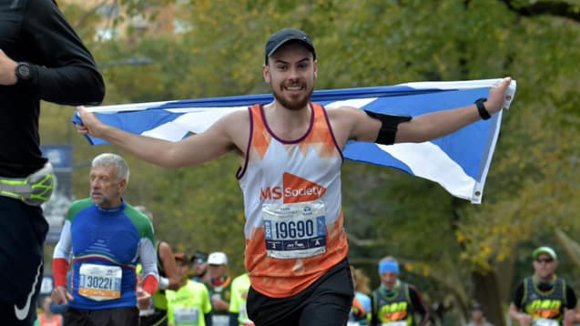 My Name is Alan Rae, I'm 24 years old from the North of Scotland. I've been fundraising for the MS Society for four years now. My Mum was diagnosed with primary progressive MS in 2011. She has a daily battle with MS but she sets her own challenges which shows her true grit and determination. 
Everything you need to know
What is the Big MS Run Off?
We're challenging everyone to join our Big MS Run Off this November. You'll be part of a team of runners all over the UK, competing to see who can run the furthest over the month of November. (But don't worry, it's just a friendly competition!) You can track your miles using any device that can do this accurately. Strava is great for this as it tracks and analyses every aspect of your activity and can be connected to your JustGiving Page.
Just before the Big MS Run Off kicks off, we'll assign everyone a team, and you'll receive an invite to join a Strava club where you can track your team miles.
Every week we'll keep you updated on your team's progress as you clock up the miles together, and we'll celebrate your achievement at the end of the month!
Why should I support the MS Society?
Over 130,000 people in the UK have MS. It's unpredictable, and different for everyone. It's often painful, exhausting and can cause problems with how we walk, move, see, think and feel. But it doesn't have to be this way. We're driving research into more – and better – treatments. For everyone. Together, we are strong enough to stop MS.
How do I sign up?
It's simple, all you need to do is set up a JustGiving fundraising page. We'll get automatically notified that you've taken on the challenge and we'll allocate you to a team. After that all you need to do is complete as many miles as you can!
Is there a fundraising target?
We don't have a set target, or a minimum sponsorship requirement, but £100 is a great place to start. It's only with the generosity of our supporters that we can continue to be there for the MS community.
Everyone who raises £50 or more on their JustGiving fundraising page will receive an MS Society branded running top.
How do I fundraise?
Please set up a JustGiving page to fundraise. All income on this will be transferred to us directly. Throughout your journey we'll provide you with fundraising tips to help support you. We ask that any final fundraising is sent into us by 31 December 2020.
Can I take part as a team?
You'll be part of a team of runners all over the UK, captained by one of our fantastic MS Superstars, Alan or Angharad. But if you want to sign up as a team of your friends or family then that's fine too! You can set up a shared fundraising page. Make it a challenge for everyone!
Whatever option you choose, make sure you keep safe by following government guidelines concerning COVID-19.
How can I log my distance?
JustGiving have integrated with Strava so you can now automatically share your fitness tracking, training pics, maps and miles onto your fundraising page. Plus, when you join your team we will invite you to be part of a Strava club so that you can track your team total. Find out about connecting Strava to your fundraising page on the JustGiving website.
Be an MS Superstar
By taking part you'll join our MS Superstars team and get:
a welcome pack including a fundraising guide to help you get started
motivational emails from your team captain
personal support from our dedicated events team every step of the way
access to our running hub with tailored training plans to suit all abilities, plus vlogs on everything from injury to nutrition
access to a private Facebook event page where you can chat to other MS Superstars.