My Shining Star awards honour
After being diagnosed with MS over 40 years ago, I joined my local MS Society group as a support volunteer. 
My main role was providing other newly diagnosed people with information about local services. I also helped those in need to complete grant application forms to get funding for items that would make a positive and lasting impact on their lives.
A shining example
Later I became a committee member of the group. In that role, I was responsible for looking at how local services were provided and delivered to people living with and affected by MS.
This lead to me being nominated for my first Shining Star award by the group in 1998.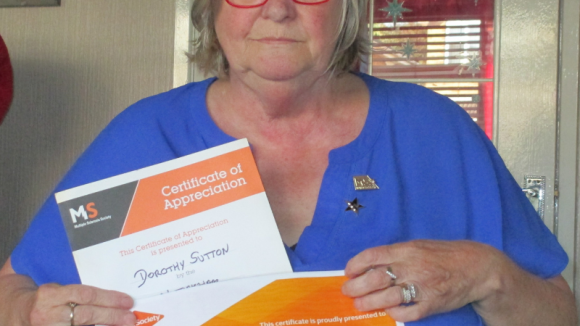 Getting rewarded by my peers was special. It made me feel very proud and it was great to know that other volunteers appreciated my efforts, commitment, and support I gave to them and the group.

Dorothy Sutton
The birth of our MS Helpline
I joined the then fledgling MS Helpline team as a home-based volunteer providing emotional support and information.
I often do three shifts a week, as well as helping provide additional cover for shift and rota changes and holidays.
Award number two
It was the Helpline team that nominated me for my second Shining Star award. It was great to be appreciated by the staff members on that team. It gave me extra motivation to carry on and confirmed that I was doing a good job.
I don't volunteer to be rewarded for it. But that sort of acknowledgement is a great bonus and makes you feel very positive about everything that you do.
Inspired by Dorothy's story? Find out how you can volunteer for us