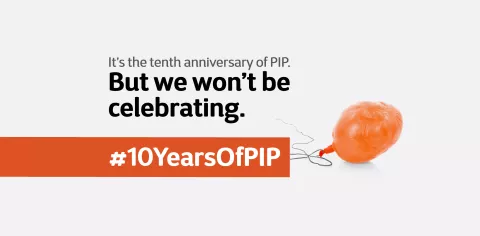 Launching our #10YearsOfPIP campaign
Today we're launching our new campaign, calling on the Government to launch a full review of PIP. 
It's been 10 years since the introduction of the disability benefit, Personal Independence Payment (PIP). Our new report shows the devastating impact of the assessment process on people living with MS over the past decade.
Our report found:
2 in 3 people with MS said going through the PIP process had a negative or very negative impact on their physical and mental health
6 in 10 people with MS said their assessment report didn't accurately reflect their MS  
over 3 in 5 people with MS said their assessor didn't consider their hidden symptoms
Download our report, PIP and MS: A decade of failure (PDF 8.2 MB)
It's time for the Government to act
PIP should cover the extra costs of living with MS - like adapted vehicles or mobility aids. Instead, the assessment process is costing people their time, their health, and their independence.
MS is unpredictable and different for everyone. But PIP assessments fail to take into account invisible or fluctuating symptoms.
That's why the UK Government must fix PIP.
Speaking out about PIP
Bethen Thorpe, from Wells in Somerset, is 47 and living with relapsing MS. She's been assessed for PIP three times and has had to take them to tribunal twice.
Bethen says: "I've had quite severe depression and my symptoms have worsened with the stress of PIP.  I've been upset about it as you shouldn't have to go to court two times!
It has a huge effect on me mentally and psychologically. The assessment doesn't work at all and makes everything more of a mockery. What's the point? It needs to be more evidence based and not about trying to catch people out all the time."
Our Policy Manager, Anastasia Berry, says: "It's the tenth anniversary of PIP, but we're not celebrating. Living with MS can be exhausting, painful and debilitating. Yet, on top of managing gruelling symptoms, too many people with MS are forced to fight for the basic support they're entitled to.
Ten years of a broken PIP system has meant a decade of stress, indignity and humiliation for people with MS.  And our latest report, PIP and MS: A Decade of Failure, reveals the devastating impact it can have on both physical and mental health. Politicians across Parliament don't have a plan to make PIP right. We can't allow this to continue. The Government must fix PIP now and stop failing people with MS."
The UK Government must act to fix PIP
We've called on the Government to fix PIP by:
scrapping the 20 metre rule, and replacing with the 50 metre threshold until an alternative is found
scrapping informal observations for people with fluctuating conditions
changing the 50% rule for assessing fluctuating conditions
Read about our #10YearsOfPIP petition hand-in
We're here for you
You can speak to our MS Benefits Advisor through our MS Helpline on 0808 800 8000 or [email protected]. It's free to call from landlines and mobiles within the UK. What you tell us is confidential, and when you call us it won't show on your phone bill.