Corporate partners' products and services
If you buy the products on this page you'll get a discount. And the corporate partner will make a donation to our work to help stop MS.
10% discount on Theraposture adjustable beds and chairs
You'll get a 10% discount on all Theraposture products. And they'll donate 7.5% of the total cost to the MS Society.
Theraposture is a leading ethical adjustable bed and chair specialist that has been helping people with MS and other long term progressive conditions since 1981.
They are now offering personalised video assessments and product demonstrations with their equipment specialists.
Please visit the Theraposture website for more details and to book an appointment.
Theraposture is committed to protect its staff and clients against COVID-19 – you can read full details on their website.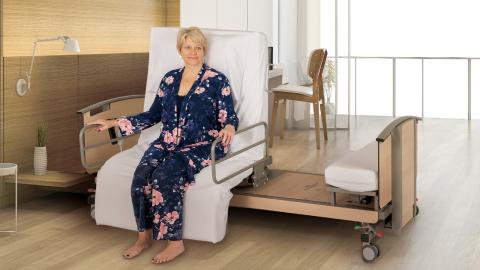 Pictured: The Theraposture Rotoflex. It's designed so people can get in and out of bed on their own terms.
About these deals 
These exclusive deals are provided through MSS (Trading) Limited, working with their corporate partners. MSS (Trading) Limited donates all of its profits to our work.
The products and services on this page might be of benefit to some of you in our MS community. But we can't make any guarantee on their quality. As with any purchase, please do your research to make sure it's right for you.
MSS (Trading) Ltd – 10 Queen Street Place, London EC4R 1AG. Company No. 2895015