John Grant, 63, is one of a crew of five aiming to be the first team to row the Minch (the open sea between Stornoway and mainland Scotland) in a 22ft St Ayles Skiff. He tells us about their incredible challenge in support of the MS Society and people living in their community with MS.
Northern Scotland has one of the highest rates of MS in the world. In our small town of Ullapool there are a number of people living with the condition and we see the impact it can have on someone's life.
So when a group of firm friends from our coastal rowing club suggested doing something incredible to support the fight against MS, I jumped at the chance.
That something is a strength-sapping 15-hour row across the Minch - the body of water between our town on the mainland and Stornoway in the Hebrides. While we've rowed together before in competitions and over some long distances, that pales in comparison to the 50-mile odyssey the five of us have set as our target.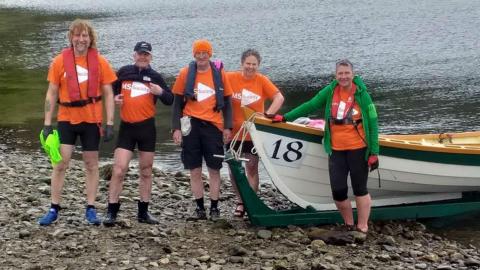 Pushing the boat out to raise awareness
For me the drive to do this is about community and supporting the people we know in Ullapool, and further afield, who live with MS and experience the effects on a day-to-day basis.
If we can make a difference through fundraising and raising awareness then we are playing a part in helping to stop MS.
From 5K-runs to marathons on rowing machines, to simply talking to other crews and clubs at the coastal rowing world championships, getting the word out is really important to us.
With days remaining now, rather than weeks or months, it is incredibly exciting.
A year of preparations from raising our fitness levels to booking ferries and organising fundraisers have got us to this point. I can't wait to leave Stornoway in the small hours with a group of extraordinary and kind people.
So much to sea…
The journey will be tough, there's no doubt about that, but we are spoiled to live in such a beautiful area of the world.
Our longest training row, on open seas, treated us to some of the best views you can imagine with Scotland's magnificent scenery all around us and some glorious weather. The whole crew loved the experience and it gave us a bit more of a taste not just of what we were up against but a feeling for the open water and assurance that we're working in harmony.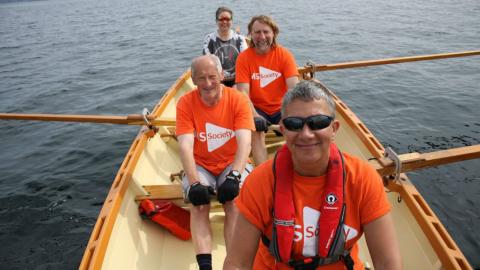 Throughout the row we'll be shifting positions every 45 minutes to change cox and take on food and water. We do it as swiftly as we can and we're a well-oiled machine now – not unlike an F1 pit-stop!
Trading Ferries for Skiffs
As someone who works for the ferry company that services the islands of Scotland it will be an interesting experience being passed by my colleagues in a rather different sort of vessel as we make the trip. No engine for us but, as with everyone we tell about the trip, the amazing support of my colleagues has and will certainly play a part in keeping us going as push through the miles.
We, as a crew, have rowed and won many medals together. However, completing this row will be at the very top of our achievements list
If you'd like to follow the progress of John and the rest of the Rowing the Minch for MS crew please visit their Facebook page or Twitter feed