The art of living with MS
Self-employed artist Kirsty Stevens creates patterns from her MRI scans. She wants to see treatments that end the uncertainty of MS.
Patterns in the MRI
I'm a self-employed designer with my own MS-inspired design label. It's called 'Charcot'. 
I use the nasty MS lesion shapes from MRI scans of my brain to design patterns for screen prints, digital prints and luxurious silk collections. I'm really proud to not only make MS visible, but make it wearable too!
It's a creative way to raise awareness with audiences that wouldn't necessarily have a connection with MS
Diagnosed at art school
I was diagnosed with relapsing remitting MS when I'd just turned 22 and was studying Jewellery and Metal Design at art school in Dundee.
Three years after my diagnosis, I started on a medication to reduce relapses. Since then I've not had any major relapses, which is amazing. 
Fatigue and altered sensations
I do still experience other symptoms regularly. Fatigue is my worst symptom. It affects my ability to think. 
Stress, physical or mental exertion can bring it on. When I'm extremely fatigued I get spasms in my left leg. 
I also have altered sensations in my hands, feet and across my skin – combined numbness and tingling.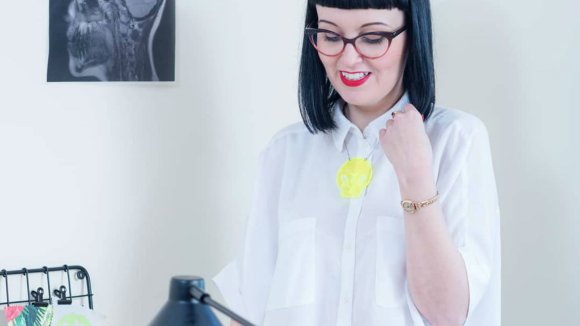 I don't know what my future holds and how I'll be affected.

Kirsty, living with MS
Self-employment works for me
I've always wanted to be self-employed, even before my MS diagnosis. Now I realise I'm very lucky to be able to adapt my working day. Working from my home studio allows me to really listen to my body and take breaks.
Make MS more predictable
MS is so unpredictable. I don't know what my future holds and how I'll be affected. This is one of the hardest parts of living with MS. 
I'd like to see treatments that make MS more controllable from the outset, so when we're diagnosed we've got a better idea of what to expect. 
Myelin repair
I'm really excited about research into re-myelination. It could repair the damage caused to the coating of the nerves (the myelin) in the central nervous system. And that could reverse the symptoms and disability that come with this devastating illness.
It would mean the world to me if I had access to a treatment that could stop MS.
Will you join Team Stop MS?
We're the closest we've ever been to treatments for everyone.
We can see a future where no-one needs to worry about their MS getting worse. To get us there we've launched our biggest fundraising appeal yet and we need your help.
Join Team Stop MS and help spread the word
Photographs: Julie Howden