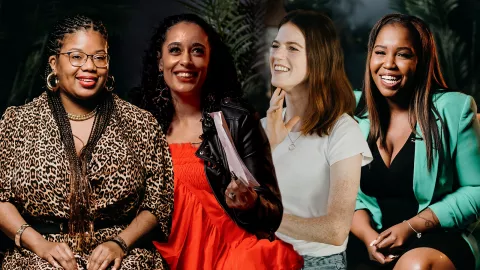 Single release aims to raise vital funds and awareness
We're really excited a single is being released to raise money and awareness for us and Overcoming MS. It's been created by the classical music composer, Fabio D'Andrea. The music video that goes with it stars our supporter, the Game of Thrones actress, Rose Leslie. 
Some of the profits from the downloads of the classical track, Hope Reborn, will be split between the two charities. We hope the film that goes with it will help increase understanding of the realities of living with MS.  
Rose Leslie plays the lead role in the video. It sees her character Amy being diagnosed with MS and finding support from the MS community. 
A positive message to people with MS
Rose explains why she wanted to be involved: "I've been an avid supporter of the fantastic MS Society for a while now. I felt like this was a wonderful opportunity to educate people who know little about multiple sclerosis. When they watch the video, I hope that they are enlightened about the invisible symptoms.  
"During filming we met some fantastic volunteers from the MS Society and from Overcoming MS who were kind enough to share their first-hand experiences of living with the condition. It was really important to us that the portrayal of the condition in the video was as authentic as possible. 
"I really hope that the video will provide a positive message to anyone who does have this condition - that it's still possible to live a full life."
Involving people with MS 
We worked closely with Fabio, Rose and Overcoming MS on the making of the film. People with MS were involved throughout the process. A group met Fabio to discuss their diagnosis and experience of living with the condition when he was working on the storyline. Supporters from both charities feature as extras in various scenes in the video.  
Fabio says: "I had an amazing workshop with volunteers from both charities. They were able to share stories about what's happened in their lives. We were able to put those into the film itself. So some scenes have really been inspired from true life events." 
Fabio has previously partnered with celebrities to create films, accompanied by his music. The one that attracted the most attention is a music video he made with Mel B which focuses on domestic violence. It was created in collaboration with the charity, Women's Aid.   
Our Chief Executive is Nick Moberly: "We're so grateful to Fabio D'Andrea for making Hope Reborn, and to our supporter Rose Leslie for giving her time to play the lead role. We know it will do an amazing job to raise awareness of the realities of living with MS."