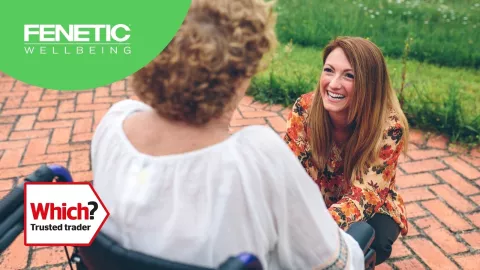 How Fenetic Wellbeing are supporting the MS Society
We're Fenetic Wellbeing, a provider of wheelchairs, recliner chairs, mobility scooters, and other mobility aids based in Yorkshire. We're committed to supporting people to lead an independent life.
In 2020, as part of this commitment, we started donating a percentage from every purchase of our products to support the work of the MS Society.
Read more on how Fenetic Wellbeing are giving back on their website
Tom Appelbee, our founder, said: "We wanted to do more for our community and the people who use our products. We knew from speaking with our customers that the MS Society delivers crucial support and services for people with MS. By supporting the work of the MS Society, we can help make sure everyone with MS can realise their full potential."
Our team are taking on fundraising events
For Fenetic Wellbeing, donating a percentage of our sales is only the beginning of our support.
In 2021 onward, we will be taking part in a variety of fundraising events to raise even more money for MS Society.
We're excited to take on a number of challenges as a team to further support the work of the MS Society in providing vital information and support to people with MS. 
Make a difference at work like Fenetic Wellbeing – get in touch with our corporate fundraising team