Winnie the Pony – our exclusive interview with a fundraising superstar
Shetland Pony Winnie lives on a farm in Fife with her person, Shirley. In 2017 Shirley was diagnosed with relapsing MS.
How did you come to live with Shirley?
Guys, it was such an adventure! She choose me for her little boy Joseph, who was five when I arrived. He was to be my person.
I traveled in a big lorry from Doncaster, where I was born, all the way up to Scotland. All I had was a little black bin bag (I wanted a pink unicorn suitcase…) with my saddle, my head collar and my bucket for my dinner.
What happened when you arrived?
There was a big group of people waiting for me in a farm yard – my new home and my new family! They cuddled and kissed me and gave me some food. I was so happy and excited I just ran around squealing!!!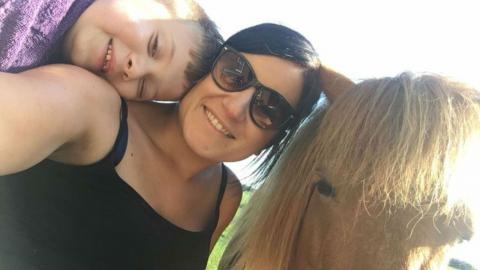 Me and Joseph had lots of fun together going for rides, but after a while he got too big to ride me. So Shirley has become my person. We have a special bond because I helped her when she got MS.
What was it like when Shirley got MS?
It happened really quickly and was a big shock for everyone. One week Shirley was going about as usual, sorting out our stables and giving us a good scratch (I LOVE a good scratch).
The next week she was in hospital, she was blind and couldn't move from her chest down. I was so worried about her and I missed her so much.
How did you help Shirley?
Shirley was in hospital for most of the summer. When she came home she still wasn't very well, although treatments and physiotherapy had made a big difference.
She was able to get about on crutches so her Dad helped her come out to my field. She'd sit for hours brushing and cuddling me. I knew this was helping her, so I didn't go off and run around.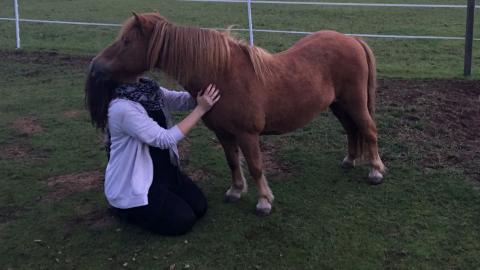 Shirley talked to me a lot, telling me how she was feeling. She found it helpful talking to someone who was non-judgmental and who just listened.
I am SO PROUD of myself for helping her!
How is Shirley doing now?
Shirley is doing great! She doesn't need her crutches much anymore. And she even ran a 5k at the Edinburgh Marathon Festival (this is like the Shetland Pony Grand National, but for humans).
Although she's a lot better things still bother her. She has a limp, she gets very tired and sometimes she gets the 'MS Hug'. Which isn't like the hugs we have AT ALL - it's really painful. Like when I have to see the dentist, but much worse.
What's the best thing about your person having MS?
I get loads of attention and it makes me feel really important. My job is to help Shirley and I love it and I love her.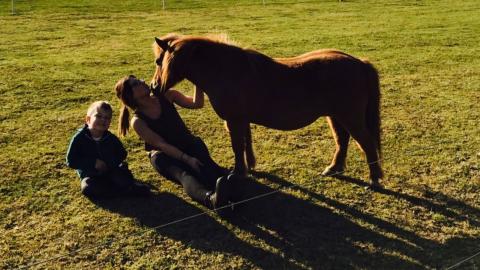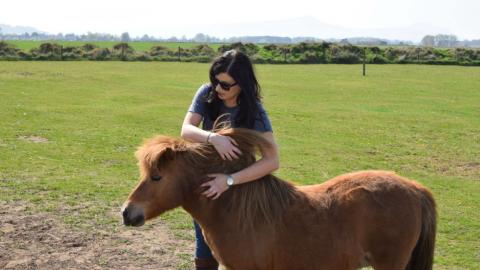 What's the most challenging thing?
Eek! Well….Shirley doesn't always walk fast enough at dinnertime. I want to get down the road from my field to my stable and get fed super quick! I LOVE food. My absolute favourite thing is an apple.
How did you help Shirley get ready for the Edinburgh Marathon?
Shirley made me go out on training walks with her. I was like: WHAT?! Walks?! I'm not a dog…
All the training was worth it though. With a group of her work mates Shirley did the 5k and she was AMAZING! She wants to raise lots of awareness of MS and do lots of fundraising.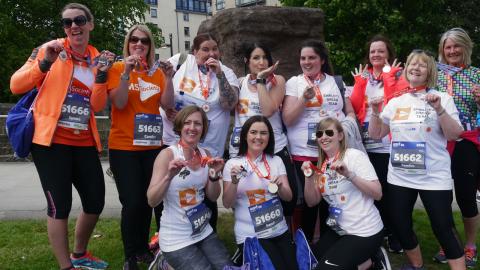 She tells me I'm really helpful for fundraising because people find me adorable. I try my best… *blushes*
Aw. Are you camera shy?
Ha ha ha – NO WAY!
I LOVE dressing up and getting my photo taken!!! I've had my hooves painted pink and sparkly, bows in my hair, I've been the Easter bunny with bunny ears, And, one time, I was the donkey for nativity and I went all through the village leading Mary.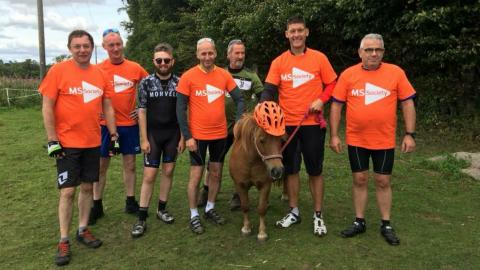 I can't wait for Shirley's next event so I can have my picture in the paper again!
Thanks for reading y'all!
Love and cuddles, Winnie Woo xx