Volunteering gives me focus and purpose
I started volunteering when I discovered local volunteer support services weren't quite suited for younger people like me.
Making things happen
When I was diagnosed with MS in 2009, I found that awareness and opportunities to get involved were lacking for younger people like me.
There were no people of my age at my local MS Society group, so I started my own support group for younger people living with MS. After our first fundraiser, I was approached by my local group and took on a fundraiser volunteer role with them.
Joining the MS Society
For the last 7 years, I've been an active and energetic volunteer with the MS Society alongside my part-time job. I manage my group's social media page and I help organise numerous exciting and creative events throughout the year.
Recently, these have included a musical evening, a quiz night, and an online photography competition for the group's calendar.
Volunteering gives me focus and purpose and I'm very excited about a few big future events that I'm coming up with right now.
Rising to a challenge
Volunteering has taught me that if you put your mind to it, you can do anything. For example, my most memorable experience with the MS Society was doing the Zipslide challenge last year. I'm a wheelchair user, so this event gave me a great sense of freedom. It was great fun in experiencing something completely different and I am keen to do it again someday.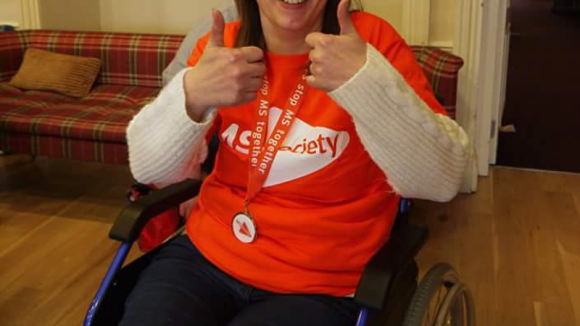 My favourite part about volunteering is the excitement from planning and organizing events with a great group and then seeing the community involved

Susan Shand
That added value
I get a great buzz out of fundraising. Last year, I raised over £10,000 which helped the MS Society put on "try sessions" like tai chi and wheelchair curling for people in local community. Many of those who participated in the sessions would otherwise have few opportunities to leave the house.
It was wonderful to get people involved through this opportunity. And it was very rewarding for me to see these events making a difference to people's lives and how enthusiastically everyone participated.
We need you
For anyone considering volunteering, my advice is to just do it because there are so many different roles and always something somebody could do. If I can do it, anyone can!
Inspired by Susan's story? Find out about all our volunteering roles