5 tips for parenting, MS and staying at home
Us MSers often know what it is like to miss out on social occasions. But to suddenly be told that we have to stay in, either by social distancing or by completely self-isolating, due to COVID-19, is a whole other ball game.
As parents also have to contend with school and nursery closures and keeping our children contented and busy - at a time when we perhaps need to give ourselves a bit of extra attention.
So, how do we manage our MS when we have to stay at home? How do we stay as well as we can and support our mental health? And how can we do all this while parenting like a boss? Hopefully, these five tips will help:
1. Be at one with nature
Ok, this might mean just sitting out in your garden or sitting by an open window. But, if you're anything like me, the fresh air and stillness can help you to feel peaceful and calm. Playing games with the kids in the garden or going to a quiet outdoor space can really help you feel less stifled from the imposed social distancing or isolation.
Don't forget your Vitamin D! Raise your face to the sun or keep up with your vitamins if the sun is not shining where you are.
2. Keep to a routine
It is easy to forgo getting dressed if you know that you are going to be staying at home. But getting up at roughly the same time every morning, getting dressed and sticking to a routine can help both you, and the kids, to feel calmer and in control. This is particularly important in a time where a lot of control has been taken away from us. My daily routine factors in some time outside, a bit of yoga (which not only stretches me out but also relaxes me) and some meditation. I also stick to roughly the same time for breakfast, lunch and dinner.
Having to be inside for most of the time really helps me to truly listen to my body and give it what it needs. I have the time for gentle exercise and stretching and, if the ingredients are available, to make fresh and healthy food. I find that doing these things every day can make a big difference to my MS symptoms.
I know that my kids (age 9 and 12) also thrive on knowing what is happening every day. They have taken pride in time tabling out the activities that school have set them. There are loads of available free resources online for activity ideas to suit pre-school, school-aged and secondary school aged children. The BBC is particularly good with BBC Bitesize for school children and Cbeebies for pre-schoolers.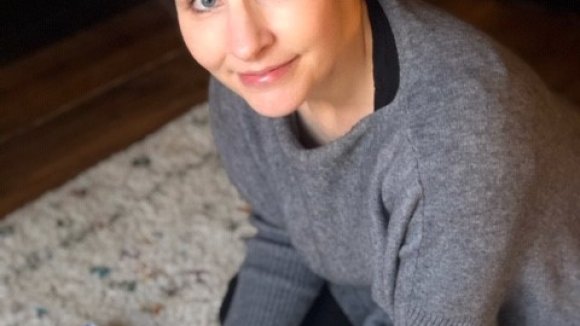 I've decided take breaks from social media throughout the day. It means I can focus on more restful hobbies, such as reading or playing board games with the kids.
3. Take a social media break
Social media can be a great way to connect with others. But if your feed is anything like mine, I just can't get away from memes about coronavirus or upsetting news stories. I've decided take breaks from these sources of anxiety throughout the day. It means I can focus on more restful hobbies, such as reading or playing board games with the kids.
It's important for us parents to monitor what our kids might be seeing too – turning on the telly means that we are immediately bombarded by the news. I feel it's important to answer any questions you our children may have. In an age appropriate, honest and yet reassuring way. Also help them to know that they're helping by washing their hands and chatting to Grandparents on Skype.
4. Be productive
Now's the time to clear out the wardrobes, tidy up your garden or finish those half-completed jobs that you always wanted to finish but never had the time for. Setting yourself a task and doing it can make you feel proud and gain a sense of achievement. Just think of how organised your house can be after the period of isolation is over!
Setting your children a task related to their interest areas can also help them to feel productive. Give them some vegetable or flower seeds to plant and take care of in a window box or tub. Or ask them to draw a picture of their favourite character. Set older children a challenge to learn all about coding or to create stop-motion films using free apps. Anything that will lead to your children feeling super proud of themselves and what they have achieved.
5. Stay connected
These days, it's easier than ever to keep in touch with others. WhatsApp, Skype and FaceTime are all ways that you can chat to friends and family. Seeing someone's face can really lift your mood. Try asking whether your children's friends have access to Skype so that they can chat to those that they can't see in the flesh. You can even have 'virtual drinks' with a group of friends from your own home – no need to miss out on a night out!
It is a scary time for everyone right now. Hopefully these tips will help you – and your children - to feel more in control of the situation we are all in, and your MS. Stay safe everyone!