I'm not an MS sufferer: I live with MS
I grew up watching multiple sclerosis (MS) take hold of my mum. Now I live with it myself. I want to stop MS not just for me, but for my whole family.
Watching my mum's MS
Four years ago, I was told I had MS. It felt like my life had ended. I was devastated and terrified of the future. My mum had it too and I'd watched her gradually get worse over 25 years.
She used to love painting but eventually she couldn't even write her name. I saw her progress from sticks, to a walking frame and then a wheelchair. I just thought, that's what's in store for me.
I won't let MS rule my life
I now know MS is unpredictable and different for everyone. Mum's MS was all physical, whereas my symptoms are often invisible. I don't want MS to be the thing that rules my life.
That's why I wanted to get involved with the Stop MS Appeal.
Stopping MS for everyone
The Appeal aims to raise £100 million over ten years to find treatments for everyone living with MS, so no-one needs to worry about it getting worse.
We are so close to finding that critical answer to stopping MS. This will have a huge impact on not only the thousands of people who live with MS like me, but for their family and friends too. I know my Dad also found it painful to see the various stages of the conditions close up.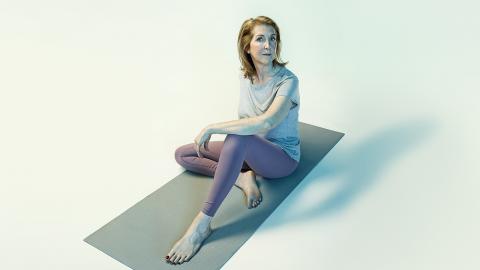 Do I have MS? The early days
Fifteen years after Mum died I was at home resting after a back operation. I stood up to make a cup of tea, went very dizzy and then completely lost all sight in my right eye.
I was referred to an eye specialist who thought my optic nerve was permanently damaged - a rare side effect from my back operation. But I wondered if it could it be anything else?
I had more tests but the results were all negative. My eyesight started to get better. The specialist knew I was worried because of my family history of MS, so he agreed to do an MRI scan.
The thing is, 1 in 600 people in the UK has MS, 1 in 330 if they grew up in the UK and 1 in 67 if they have a parent with it. To me those odds were higher than the 0.028% of me developing a rare back operation side effect.
An MRI revealed multiple lesions
The results of my scan were in. It was abnormal. I asked if there were lesions on my scan, and with sadness the doctor said "yes, multiple lesions in multiple places showing signs of nerve damage or demyelination'" I knew what this meant from Mum's illness – a classic sign of MS.
A few weeks later after some final tests, on 28 February 2015, I was confirmed as having relapsing remitting MS.
Living with invisible MS symptoms
My worst invisible symptoms are my memory and painful spasms in my right leg and foot. I often forget common things like why I've walked into a room, names of people I know well, birthdays and 'must-do' activities – multiple times every day. I also have 'spaces' in my speech, where vocabulary disappears totally! I'm now seeing a specialist about this.
I still work full time in a bank who have been brilliant at making adjustments for me such as flexible working locations and hours. and allowing me time off. I walk my dog, do Pilates, read and volunteer with our village First Responders team – all to keep my mind and body active.
I try not to moan about my MS but sometimes it's hard not to. What I do want people to know is that I'm not a sufferer of MS. I am not my Mum. I am Nikki and I'm living with MS.
Will you join Team Stop MS?
We're the closest we've ever been to treatments for everyone. We can see a future where no-one needs to worry about their MS getting worse. To get us there we've launched our biggest fundraising appeal yet and we need your help.