MS, my rescue dog, and me
When Sally Deegan and her husband adopted a rescue dog, they hoped he'd help them find happiness, but he's done a lot more than that…
Before MS, I had a flourishing career umpiring cricket. I had even been shortlisted for international duty. Then, in October 2014, I started to experience numbness in my legs and spent 10 days in hospital.
My symptoms got worse and I developed optic neuritis. In February 2015, I was diagnosed with MS. I was devastated.
The symptoms were ruthless. I was living with numbness, paralysis, optic neuritis and other symptoms and was relapsing every three months. The depression was even worse than the physical symptoms. I lost my freedom and I was on a path of self-destruction. Ciaron, my husband, decided we both needed to find joy again.
Bringing Bowser home
After another 10 day hospital stay, Ciaron surprised me with a visit to the Brands Hatch branch of Battersea Dogs and Cats home. And that's when the amazing Bowser joined our family.
Bowser has no medical training, but he's learnt the differences in my body when I am on the verge of relapsing. Three months after we brought him home, I relapsed again and it was so severe, I was unconscious. Bowser was incredible, insisting my husband give him attention and follow him in from the garden to find me on the sofa. Bowser saved me that day.
Life-saving help
I was so low before Bowser joined our home, now I look forward to the future again. I have moved to Scunthorpe with Ciaron for better neurological care.
I have been relapse free since I began Tysabri infusions in June 2016. But just last October, Bowser alerted us to something unrelated to MS. MS nerve pain is so bad, I don't pay much attention to other types of pain. Bowser was nudging, cuddling and doing his usual alerting ritual but I knew it wasn't MS. We saw the GP and from there I was rushed to A&E for an emergency appendectomy. The boy saved my life again.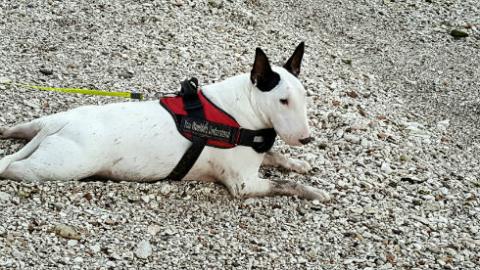 A friend for life
Bowser has trained himself to be my number one care provider and is more in-tune with my body than me. He's rescued us as much as we rescued him. He has raised a lot of awareness of MS, as people stop and are so impressed by what he does. He also raises awareness for rescue dogs.
For all this, he was nominated for the Friends for Life Award and won his category 'A Life of Friendship'. Now the public can vote for him to win the overall award. We'll be going to Crufts on 12 March to find out the winner!