Lockdown lessons – going back to basics
For those of us with MS who are usually able to live full and active lives, life under lockdown is a serious shrinkage.
I hope I'm not alone in (shamefully) missing all the activities that used to fill my days. I miss swimming and eating out with friends. I miss the theatre and the cinema, browsing bookshops or the clothing sale rail. No more. Life is now far less than all that, yet it has proved to be just enough.
What matters to me, really?
In these past few weeks, all that truly matters is that I am healthy and safe, as are my family and friends. These are incredibly scary times and I can't imagine how hard it must be for those who are ill, grieving, worrying about their finances or struggling with their mental health. This is a challenging and heart-breaking time for us all.
But it is also a rare opportunity to realise what life is truly about, when you strip it right back. All we can do now are the essentials and I am discovering what 'essential' truly means for me when the noise and the haste stills. Perhaps some of my essentials are true for you, too?
1. Social contact
Humans need other humans. I'm independent and adore my own company, but social contact has become incredibly important. Scheduling video calls with friends for a cuppa, or with family for a quiz, are now pillars of sanity and joy. Nothing beats sharing an hour with the people you love.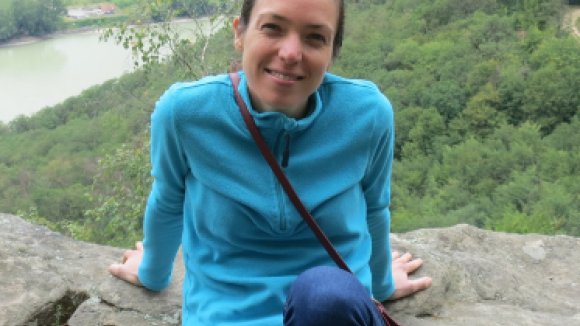 There are very few silver linings in this dreadful dark cloud, but let's find the glimmers we can and treasure them.

Sarah
2. Physical affection
I've been surprised by how much I miss a hug! My parents deliver my shopping as I self-isolate and it makes me sad to just wave from a distance, unable to throw my arms around them as I would usually.
3. Food gratitude
It seems I was a diva cook, trawling supermarkets for just the right brand of just the right product. Now, I take what I can get – and I get creative! I appreciate the food I have and feel grateful for every meal.
4. Exercise for wellbeing
If I wake up feeling anxious or lethargic, a morning run is my saviour. I've always exercised for pleasure and fitness, but never realised how it can restore the spirit, making me feel engaged and energised.  
5. Kindness
I have been blown away by the kindness of others. Neighbours I've never met before are generous, friendly and thoughtful. People who courteously avoid me in the park offer a smile. My friends check in, asking 'are you ok?' and actually wanting to hear the answer. I get such comfort when someone takes the time to be kind – and I love being able to do the same.
I hope I remember how important all these things are when life finally returns to the hectic pace it used to be. There are very few silver linings in this dreadful dark cloud, but let's find the glimmers we can and treasure them.
Tell us your own story
No one should have to face MS alone. Particularly in lockdown. Real stories of life with MS help us all feel more connected. And they help us speak up for everyone with MS. Will you share yours?