Keeping up with my friends and fitness online
The social distancing and shielding measures have left us all with a cloud of uncertainty over our heads. When will we be able to see our families and friends again?
For me, technology has been a godsend for not only seeing and chatting with my family and friends but also for keeping me in touch with the second love of my life...pole fitness.
>> Read how pole fitness got Claire back into exercise
It's a much needed distraction from the news
The studio I attend is running online classes using Zoom. Not just pole classes as not everyone has access to a pole at home, but also stretch and yoga based classes, cardio, dance and meditation sessions.
There is plenty of variety so it's impossible to become bored. The instructors have provided loads of classes and on most days too. I find that it's kept me away from social media and the news a lot which is a good thing. It'd be so easy to be consumed by watching it. I definitely need a distraction.
Checking in on each other's mental health
The online classes have helped us all to keep in touch with our friends, keep fit and helped with feelings of loneliness.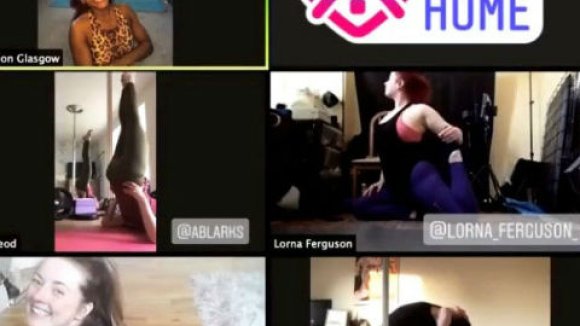 Through seeing each other over Zoom we've been able to have something of a social life and check in on each other's mental health. It's a place to chat and have a wee whinge if needs be.
It's only natural with how uncertain things are in the world just now and it'd be so easy to become stuck in a rut, fearing the worst.
As well as this, we are keeping up our skill sets as best we can and some of us developing new ones as we can try things we haven't done before.
Those of us with MS are used to uncertainty
That being said, uncertainty and unpredictability are things that we're well accustomed to through living with MS.
However this is a strange, new situation for us all and it's so important that absolutely everyone looks out for one another's physical and social needs. We're managing it even though we're thousands of miles apart!
We all need to follow the rules and help each other so that when we all come back together again, no one is missing. Stay safe guys!
You might be at home but you're never alone
Find up-to-date information, practical help and ways to connect
Tell us your own story
No one should have to face MS alone. Particularly in lockdown. Real stories of life with MS help us all feel more connected. And they help us speak up for everyone with MS. Will you share yours?