How my experience of the NHS inspired my son
My son is your typical 20-something university student.
His focus is on labouring over essays late into the night, petty house rules and plans for festivals and foreign travel in the holidays. All booked up over a year in advance and shared online.
All that changed with coronavirus. As his world rapidly shut down around him, he felt helpless and scared.
He could no longer attend lectures in real life or indeed hang out at his campus. Friends were out of bounds. Pubs and clubs were shut as was his gym. Festivals cancelled week on week. There was nowhere for him to go and nothing to plan for.
Applying for a job with the NHS
However, as someone whose mum had been diagnosed with MS in the same year he started high school, he did the best thing he felt he could. He applied to be part of the housekeeping team at the University Hospital of Wales where my fabulous MS team is based - the biggest hospital in our country.
When he called to tell me, I was worried. Why would anyone willingly apply for a job there, at this time?
My anxiety levels went through the roof. I knew he could continue lectures and peer-group research online, and that was great. But, to work in a large hospital during the greatest pandemic for over a century?
My fear and pride for my son
I'm sure every relative of anyone working at this dreadful time feels exactly the same, especially in a hospital, a care home or a supermarket. Would he be protected? Could he could cope with what he might witness?
Yet all the staff who work there have families and I am no different.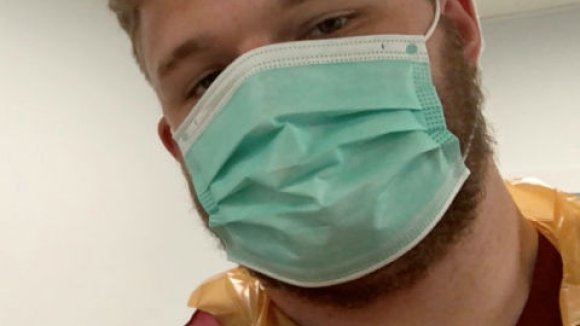 He is stepping up and taking a role during this pandemic, and for that I am proud.
It would have been so easy for him to lie in bed and bemoan his fate. Instead he has decided to do something positive. His risk may be low, we don't know, and I can't think too much about that.
He told me that the NHS had rescued me
And he felt humbled. He had his induction, was kitted out and put to work. I was torn between horrendous fear, and pride that my son was answering the call and stepping up to help out.
I can only hope the camaraderie and a huge dose of good luck will see him through.
For him, and for me, this is life-altering. My son is now inspiring me, the same kid I was telling off a few years ago for rebelling against new school uniform rules, as he chucked his school tie downstairs and yelled fighting talk from his bedroom door.
We do indeed live and learn.