Our relationship is all we have to get through today
I live with secondary progressive multiple sclerosis (MS). I joined the Stop MS Appeal to make sure there's treatments for everyone to stop this painful and relentless condition.
My MS diagnosis came as a shock
I'm never quite certain when I was diagnosed with MS. I think it was February 2004. It was a bit of an odd feeling because I wasn't quite certain that I had been diagnosed.
I'd experienced my first MS symptom years before. I got a sensation of pins and needles rushing up my body to my belly button. I didn't really think anything of it, until I lost my balance and fell a few weeks after that.
I saw a chiropractor who tried all sorts on me and then a conversation with my friend, a GP, made me think I may have something relatively serious. I booked an appointment with my own doctor.
After a number of tests I was introduced to a nurse who said 'So were you expecting the diagnosis of MS?' I replied 'Oh, did that just happen?'
It was easy to hide my MS at the start
I didn't really know much about MS at the time, other than somebody in school's father had it. He went from working, to lying on the sofa, to being unable to feed himself pretty quickly. I knew my parents would immediately think about him as well, which is another thing that goes through your mind - how do you tell people?
Back then, I only acknowledged my MS when I had a relapse. I would treat it like I was coming down with a cold and would just carry on and ignore it. It was easy to do as you wouldn't have known I had MS just by looking at me.
How my MS affects me
I used to be very social, love playing rugby and my friends used to tell me slow down. Like many other people, I was told I had MS when I was in my prime. I used to work full time and now I medically retired and use an electric wheelchair. Now I rely on my husband for my much-needed care and support.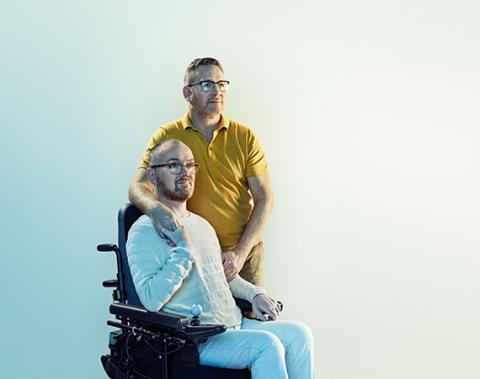 I want to find a treatment to stop MS
That's why I wanted to get involved with the Stop MS Appeal.
There are more than 100,000 people living with MS in the UK and a huge number – including me – don't have treatment.
That means as my condition gets worse there is nothing to stop me becoming more disabled. That cannot be right.
With the backing of expert scientists, the MS Society claims we can expect to see a range of treatments for everyone in late stage trials in just over five years. It's incredible to think stopping MS is within our reach, and other people might not have to experience the issues I have. 
Nobody knows what's around the corner, but if I could have a little bit of certainty – to know that I won't have another relapse and get worse – that would be phenomenal.
Will you join Team Stop MS?
We're the closest we've ever been to treatments for everyone. We can see a future where no-one needs to worry about their MS getting worse. To get us there we've launched our biggest fundraising appeal yet and we need your help.