Blogger Jessie Ace interviews our CEO
A few weeks ago I invited Nick Moberly, the new CEO of the MS Society, onto my DISabled to ENabled podcast to talk about his plans for the future.
Luckily he agreed and so I did something I don't usually do. I immediately went into as many groups as I could on social media to find out what the MS community really wants to know about our new CEO.
As you can imagine, I received lots of questions. I put together as many as I could because I knew Nick would be a busy guy.
What we discussed in this interview really surprised me and not just because Nick went into a lot of open and honest details that I certainly didn't expect him to say.
Nick is amazingly warm and welcoming. He has the attitude of just wanting to help everybody. I've never met such a genuine, kind person.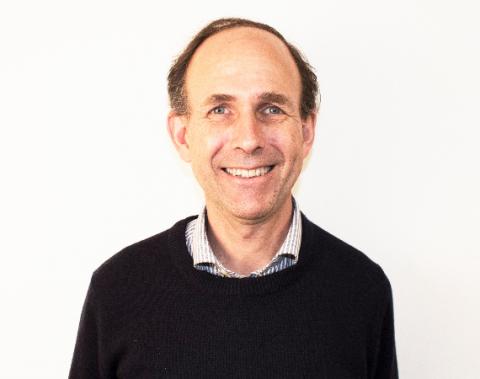 Nick's hospital background
We began by discussing Nick's hospital background where he had been the CEO of the Kings College Hospital NHS Foundation Trust - which I learnt specialised in neurology - and Royal Surrey County Hospital NHS Foundation Trust.
This was of particular interest because it is the first time we've had an MS Society CEO with a hospital background.
He has the benefit of knowing how an NHS hospital runs. He knows the procedures doctors and nurses have to follow, the hoops they have to jump through and he knows the right people to make - I believe - lasting change.
And I learnt one thing about Nick's family that I found really surprising. I'll leave you to listen to the podcast to figure out exactly what that is. It's something I didn't expect him to say.
The future of the MS Society
We discuss his plans for what he thinks the future of the MS Society will look like and how they differ from the previous CEO Michelle Mitchell. In his words, he will be 'carrying on the amazing work she's already done'. (Told you he was lovely!)
But he is looking at ways they can carry on their work differently, with a particular focus on embracing technology and encouraging the younger generation to get more involved - fantastic!
He also has plans for research, drug therapies, neurologists, MS nurses and campaigning.
A passion for neurology
You'll also learn why he has an interest in neurological symptoms such as MS, which was strengthened by working as the CEO at Kings College.
And we chat about his thoughts on the diagnosis process and what we could do to improve it and help more people.
We particularly talk about how the diagnosis of MS happens for young people. As you know that is an area in which I am very passionate about seeing change happen.
Fundraising and campaigning
We discuss the importance of fundraising and campaigning so that we can allocate more amounts to different areas, taking a holistic approach. For example, one area of work is around supporting people to have a healthy lifestyle through things like exercise.
We even went into depth about what the budget is for the MS Society and exactly how much is allocated to each area and why.
The best way to make change happen is to campaign and get your voices heard. Nick is fully open and transparent with what he thinks needs to happen and wants to listen to your opinions too. He recognises that people with MS are the most important people in this equation and they should have the final say.
Invisible disability
One of the hot things on my agenda was to discuss how we can further educate the public and create more awareness of the invisible symptoms of MS. He completely agrees. 
We discuss the idea of campaigning here too, because to understand invisible symptoms we need people to speak about them.
You can listen to Nick Moberly's interview with me, Jessie Ace, on The DISabled to ENabled podcast. Listen now on iTunes, Spotify, Spreaker, Tune In and Youtube - don't forget to subscribe if you like it and leave your thoughts in a review.
Illustration by Jessie Ace