Be a fundraising volunteer
Every day we're fundraising for services and support for people with MS. And to fund groundbreaking research that will stop MS altogether.
And we need your help. We're looking for cheerers, event leaders, cake sellers, street collectors, meeters, greeters and friendly faces.
Even if you only have a little time to spare, if you spend it with us, you'll help make a difference for everyone affected by MS.
Helping our runners over the finish line
As a marathon runner himself Albert knows physical challenges can be lonely. He's made it his mission to make sure our runners get the loudest cheers on the track.
And we love him for it.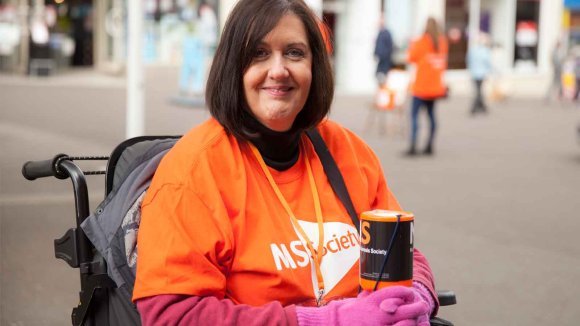 I enjoy volunteering because it gets me out of the house to meet people. Sometimes you feel people you meet want to talk to someone and I can be there for them

Geraldine, local group volunteer
You may also be interested in
Find support near you
We can't meet face-to-face right now. But there's still lots of ways to connect with people near you who understand what life's like with MS. From coffee mornings to online yoga classes. Put in your postcode to find out what's near you.
Make a donation
One-off donation
Monthly donation