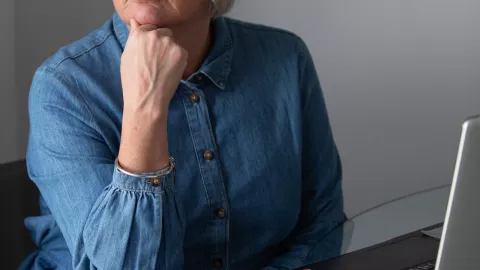 Spotlight on menopause and MS
Menopause can bring a number of changes, but does it impact MS? We took a look at the science behind the symptoms.
Similar symptoms
During menopause our bodies stop producing oestrogen.
This can cause a variety of symptoms, including hot flushes, difficulty sleeping and bladder problems.
But some of these overlap with the symptoms of MS. So the big question is – how does menopause affect MS?
Menopause and MS research
We don't have all the answers yet, but it's a growing area of MS research.
In two small surveys, 40-54% of women reported experiencing a worsening of symptoms after menopause. But menopause was not reported to affect MS in a third, larger study.
Researchers in the US found menopause might be linked to MS disability getting worse, as measured by EDSS. This worsening of symptoms could not be explained by vitamin D levels, treatment changes or smoking status. The results seem to suggest that disability progression speeds up a little around the time of menopause. 
Read the 2015 study on menopause and disability on the SAGE website
But we also know that MS progression is linked to ageing. So it's difficult to untangle the effects of ageing from the effects of menopause. We need more research to fully understand the impact menopause can have on MS. But this adds to evidence highlighting the benefits of hormones like oestrogen.
The many roles of oestrogen
As well as playing a critical role in reproductive health, oestrogen also helps to shape our immune system. And it could protect nerves from damage in our brain and spinal cord.
Several small trials have tested the benefits of oestrogen for women with relapsing MS.
One phase 2 study found that taking oestriol with a disease modifying therapy (DMT) reduced relapses by 47% after one year. This was when compared to just taking a DMT alone. The effect was less obvious in the second year of the trial.
Read the 2016 study about oestrial and DMTs on the Science Direct website
We need larger trials to fully test the benefits of oestrogen for women with MS.
Hormone replacement therapy (HRT) and MS
Hormone replacement therapy, or HRT, can be used to relieve symptoms of menopause.
It's not for everyone, and so far there's not been much research into benefits of HRT for women with MS.
One small study from 1992 found that 75% of women taking HRT felt it improved their symptoms when they were asked about it in a questionnaire. The study involved 19 women.
Read the 1992 study about HRT and MS symptoms on the Journal of the Royal Society of Medicine website
And more recently, Dr Riley Bove, at the University of California San Francisco, has been working on a pilot trial to see if HRT improves symptoms in menopausal women with MS. 
Read about Dr Riley's trial on the US National Library of Medicine clinical trials website
This is promising research. But ultimately, we need larger studies to understand if HRT can improve MS symptoms during the menopause.
If you have any questions about HRT, we'd recommend you speak to your GP or MS nurse.
Hot flushes
We know that many people with MS find their symptoms get worse in the heat too. And in a recent US survey, some women reported that hot flushes could trigger MS symptoms like fatigue and bladder problems.
Researchers concluded that as well as the impact that hormonal changes could have on MS, hot flushes could also contribute to symptoms getting worse temporarily.
We updated this blog on 29 June 2020
Want to know more about menopause and MS?