Painter with MS becomes first person to join groundbreaking new trial for advanced MS
Today, a painter from Bromley will become the first person to join ChariotMS, a new clinical trial focusing on advanced MS.   
Last year, we announced a new trial testing if a drug called cladribine can slow down the worsening of arm and hand movement for people with advanced primary or secondary progressive MS.
After some delays due to COVID-19, today Carol Allen will become the first person to officially join the trial.
Carol, 70, lives with primary progressive MS and uses a wheelchair to get around.
Receiving the first dose of the drug or placebo
At today's visit to the lead trial site in London, Carol will receive her first tablet of either cladribine or a dummy drug (placebo). Neither she nor the trial team will know which one she is taking. 
She'll do some tests too. Like the Nine Hole Peg Test, which involves putting pegs into holes as quickly as possible. By repeating the tests several times throughout the trial, the team can measure how hand and arm function changes over time. So they can work out if cladribine slows progression better than the placebo.
"It would mean so much if I could retain use of my hands and arms"
Carol has lived with MS for over 20 years, and has been trying to get on a clinical trial for a long time.
She says: "I've got three grown-up children and six grandchildren, so it's really important that I can continue being able to go out and do things with them.
"It would mean so much to me if I could retain use of my hands and arms. It would help me with the basic stuff, like transferring to and from my wheelchair, but would also allow me to continue enjoying the nicer things in life! One of my biggest passions is painting. And I won't let MS stop me."
We won't know if the treatment is successful for several years. But by taking part, Carol's helping us find out if cladribine could one day become the first disease modifying therapy (DMT) for advanced MS.
Carol says: "If it helps me then great, but if it helps people after me, that's great too."
A huge milestone in research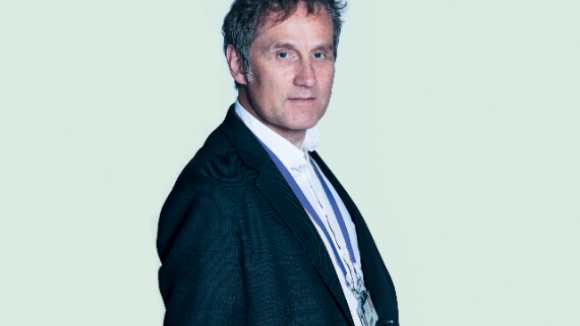 I can hardly describe how excited I am that ChariotMS is finally getting underway in earnest.

Professor Klaus Schmierer
Professor Klaus Schmierer, from Queen Mary University of London and Barts Health NHS Trust, is leading the trial. He says: "The recruitment of our first participant is a huge milestone, and I can hardly describe how excited I am that ChariotMS is finally getting underway in earnest.  
"Finding ways to maintain people's upper limb function is essential to their quality of life, but until now walking ability has been the only official measurement of whether or not an MS treatment is effective. This has excluded people who depend on a wheelchair from taking part in trials and, as a result, from accessing effective treatment that will help maintain their hand and arm function.
"If successful, ChariotMS would be a major step towards a first DMT to protect upper limb function for people with MS who aren't able to use their lower limbs at all, or can only walk short distances with help from aids like crutches."
Dr Clare Walton, Head of Research at the MS Society, says: "Recruiting the first participant to ChariotMS is a significant moment in MS research. We are so proud to be supporting this ground-breaking trial, which will help bring us closer than ever to our goal of finding treatments for everyone with MS.
"Living with MS can be relentless and painful. And as the condition progresses treatment options become limited, or even non-existent. This can leave people with progressive forms of MS feeling written off and hopeless. Finding a treatment to protect hand and arm function would give hope to many people with MS, helping them to maintain independence and improve their quality of life immensely."
How can you sign up?
If you have advanced progressive MS and an EDSS (Expanded Disability Status Scale) score of 6.5 to 8.5 the researchers want to hear from you.
EDSS 6.5 - 8.5 means you can't walk further than 20 meters with two crutches, or are unable to walk at all, but still have some use of your arms and hands.
You can live anywhere in the UK. There will be 20 trial sites including locations in London, Belfast, Cardiff and Edinburgh.
To find out more about taking part, email the trial team at [email protected].
More about the funding
We've committed to raise £370,000 to support ChariotMS. The trial is being funded by the Efficacy and Mechanism Evaluation Programme, which is a partnership between the Medical Research Council and National Institute for Health Research. It's also receiving funding from the National MS Society in the USA, Barts Charity, and Merck Serono.