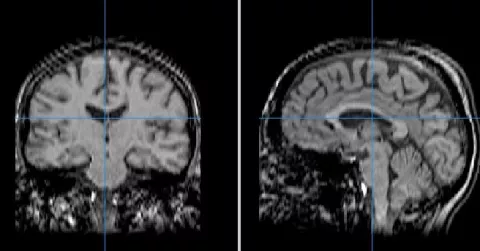 MRI scans can help predict MS progression
New research published today has found early MRI scans can be used to predict long-term outcomes for people with relapsing MS.
Long term insights
In the study, which we funded, researchers looked back at MRI scans carried out when people were first diagnosed with clinically isolated syndrome (CIS). People with CIS have experienced one episode of neurological symptoms, and often go on to be diagnosed with MS.
15 years after the MRI scans were first taken, researchers assessed the disability of the participants, using measures including the Expanded Disability Status Scale (EDSS).
Researchers discovered these early MRI scans contained signs of future progression. They found early spinal cord damage was a sign that people were much more likely to go on to develop the secondary progressive form of MS. And having a spinal cord MRI scan not only helped with diagnosis but also gave an insight into the level of disability a person was likely to face in the future.
They also found an association between lesions seen in the brain at the time of diagnosis with CIS, and a person's physical and cognitive abilities later in life.
Better predictions of MS progression
The results, which were first announced at the MS Frontiers conference in 2017, have now been peer-reviewed and published in an academic journal. The study was led by Dr Wallace Brownlee and MS Society Scientific Ambassador Professor Olga Ciccarelli at the National Hospital for Neurology and Neurosurgery in London.
Dr Wallace Brownlee said: "We already use MRI scans to diagnose MS and to monitor the course of the disease. These findings – which suggest existing measures, routinely available in clinical practice, can provide a long-term prognosis – are a major advance that will be welcomed by many in the MS community.
"MS can be relentless, painful, and disabling, but being able to predict how a person's MS might progress will mean more certainty, better treatment choices, and hopefully better long term outcomes for everyone living with the condition."
Reducing uncertainty for people with MS
Dr Susan Kohlhaas, our Director of Research, said: "MS damages nerves in your body and makes it harder to do everyday things like walk, talk, eat and think. It's also different for everyone and there isn't currently a consistent way of predicting what course MS might take. This can be incredibly distressing and make decisions about treatment, family, and life in general very difficult.
We're pleased to have funded the work and look forward to seeing it progress so people living with MS can finally have more certainty about the future."
Read the full research paper on the Brain website