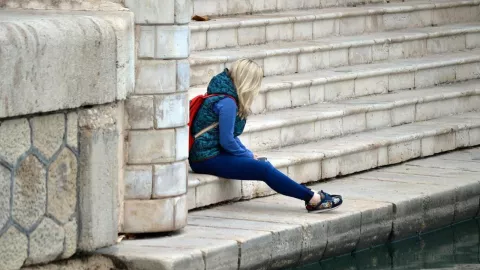 New research for MS Week shows 1/3 people with MS kept it secret
We know talking about MS can be hard, so we asked over 800 people living with MS what they believed were the barriers to speaking out.
Today, to mark the start of MS Awareness Week, we released our findings which revealed a third of people with MS (35%) have kept their condition a secret.
Of the people who hid it:
one in ten (9%) kept it a secret from their partner
a third (33%) kept it a secret from at least one family member
more than a third (34%) kept it a secret from their employer
over half (59%) haven't told their colleagues.
Why MS can be tough to talk about
When we asked why people had chosen to keep their MS a secret
over half (52%) said they were concerned others would feel sorry for them
over a third (37%) feared discrimination
four in ten (40%) were worried it would impact their career
three quarters (74%) said talking about MS made them nervous, or worried they weren't explaining it properly.
#LetsTalkMS
We want to break the silence, and that's why this MS Awareness Week we're saying #LetsTalkMS. All week you'll find stories, blogs and resources to help you start a conversation about MS on our website.
Join the conversation on social media
Share a photo of yourself and tell us how you came out with MS using #LetsTalkMS.
Tag @mssocietyuk on Twitter and Instagram so we can share your posts.
Take part in a comedy music video
We've teamed up with Robin Hatcher, who lives with MS and is part of the improv comedy troupe The Noise Next Door.
Robin from @NoiseNextDoor lives with MS and needs your help to laugh in the face of MS this #MSAwarenessWeek.

Tell us your funniest or strangest MS moments in the comments below by 5pm Tuesday and Robin will use your stories to improvise a song all about it.#LetsTalkMS! pic.twitter.com/zKNtpCTABJ

— mssocietyuk (@mssocietyuk) April 19, 2021
Head over to our social media accounts on Twitter, Facebook and Instagram today to find out how you can help them create a comedic music video!
No one should have to keep their MS a secret
Ed Holloway, our Executive Director of Digital and Services says:
"More than 130,000 people live with MS in the UK, and we know many struggle to talk about it. This MS Awareness Week you'll find new resources on our website to help you start a conversation about MS, and others sharing their stories of speaking out for the first time.
"No one should have to keep their MS a secret, and our free MS Helpline and local groups can be a great lifeline too."
To find out more, head over to our #LetsTalkMS MS Week page.