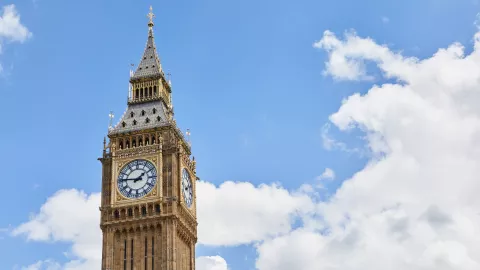 Carer's Leave Bill secures Government backing and moves to the next stage
A Bill that will give unpaid carers the right to take up to one week's unpaid leave from work has passed its first crucial step to becoming law. 
The Carer's Leave Bill, a Private Member's Bill tabled by Wendy Chamberlain MP, received Government support at its Second Reading in Westminster on Friday last week.
During Friday's debate, Wendy highlighted that many carers of people with MS have already been forced to leave their jobs as a result of their caring responsibilities. The Carer's Leave Bill aims to enable unpaid carers to balance their caring responsibilities with work by making sure employers give them extra time off. This time off could be used for accompanying loved ones to appointments or taking respite time for themselves, for example.
Support from the Government is crucial
Private Members' bills are public bills introduced by MPs and Lords who aren't government ministers. Every Private Member's Bill faces challenge over time in getting through Parliament, which is why support from the Government makes a real difference.
It's very positive to see the Carer's Leave Bill get support from the Government which will increase its chances of being passed into law. Now that the Bill has passed its Second Reading, it will move on to a committee stage to discuss the content of the Bill in more detail.
In the debate, Wendy talked about our 2019 survey of friends and family of people living with MS, and about meeting with her local constituents with MS over the summer. She said:
"The experiences of those carers and the loved ones that care for them is best expressed by my constituent Amy. Amy is living with MS and is chair of the Fife MS forum. Her husband cares for her full time now. That's not unusual because research from the MS Society found that 34% of carers give up work when caring for someone with MS."
Our Family and Friends survey also found that 41% of unpaid carers spend 35 hours or more a week providing support. Half said they don't have the practical, emotional or financial support they need.
How the Carer's Leave Bill could help
Although our ultimate goal is for carers to receive up to two weeks' paid leave, this Bill will give unpaid carers a number of benefits. The Bill will give new rights to all unpaid carers and, for the first time, require employers to think about their employees with caring responsibilities. Passing the Bill could also encourage more forward-looking employers to go further than the legislation, and introduce paid Carer's Leave.
Even though this is a great first step to improving support for carers, the UK Government still needs to do more to help carers with financial insecurity now. As part of our ongoing Breaking Point campaign, we're calling for an additional cost of living support package for disabled people and their carers to help them through the winter.
Sign our petition to the UK Government calling for more support
More support for flexible working
We're also campaigning for people with MS to have more access to flexible working.
Earlier this year, the All Party Parliamentary Group for MS published their Employment without Barriers report which called on Government to give people with MS more confidence to work flexibly in their new or potential jobs. We're supporting the Employment Relations (Flexible Working) Bill, which will aim to give more rights for employees to request variations to their working arrangements. The Bill, tabled by Yasmin Qureshi MP, will be debated on Friday 28 October.
We'll continue to call on MPs to support both bills as they continue their passage through Parliament.