Preventing job loss using acceptance and commitment therapy (ACT)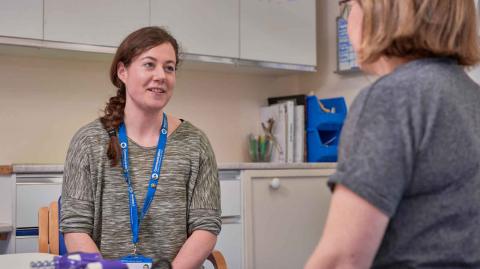 Lead researcher:

Dr Helen Ford

Based at:

Leeds General Infirmary

MS Society funding:

£145,236

Status:

Active
About the project
Up to 80% of people with MS leave employment within ten years of their MS diagnosis. A number of different things influence job loss. But one of the key factors that influences whether someone with MS stays in employment is self-efficacy. Self-efficacy is someone's belief in their own ability to achieve their goals.
A type of therapy called acceptance and commitment therapy (ACT) has been shown to improve self-efficacy. Researchers in Australia have developed an ACT programme for people with MS called READY for MS. Helen's team will adapt this programme for use in the NHS. They'll will test it with people with MS in Leeds and London who are at risk of job loss. And they'll measure whether it can improve self-efficacy and other measures like fatigue and mood.
How will it help people with MS?
Most people with MS in the UK are diagnosed during their twenties and thirties when they are in full-time education or employment. The economic impact of loss of employment has huge implications for people with MS, their families and society. By developing a programme to help keep people in work, we can improve well-being and preserve livelihoods. If the trial is successful it could lead to the programme being rolled out across the UK.
The difference you can make
Your support will allow researchers to develop a programme to help people with MS remain in employment.