Take on our amazing 100K Your Way challenge! Set yourself a 100 kilometre target and tackle it how, when and where you want to help us make sure no one faces MS alone.
What is 100k Your Way?
100k Your Way is a fun challenge designed to raise vital funds to Stop MS.  
Cover a total of 100 kilometers through activities that inspire you. Whether it's running, walking, swimming, or any other activity that tickles your fancy, the choice is entirely yours! 
But here's the twist: if traditional sports aren't your cup of tea, no worries! You can make the challenge your own and focus on 100 Your Way! 
You can set a personal deadline for completing your 100k or take your time – the key is to do something you enjoy, have fun while raising funds to support our vital work. 
Unleash your creativity 
Are you ready to take the challenge and make it uniquely yours? Whether you're a seasoned cyclist, a hesitant runner, a windsurfing maverick, or even a pogo-sticking virtuoso, this challenge is up to you.  
You can take it on solo or get together with family, friends, or colleagues to conquer the 100K. Finish in days, weeks, or create your timeline—your challenge, your rules! 
And remember, it's not just about distance. Get inspired by the number 100 and let your imagination run wild. You could: 
hop 100 times a day
climb the stairs 100 times
bake 100 cakes and buns and sell to friends and neighbours
complete 100 laps of the garden
grow a beard for 100 days
make and sell 100 friendship bracelets
Your options are endless! For more inspiration download our 100K Your Way ideas.
How to register
Registering is easy, sign up now and begin your 100K Your Way journey.
And don't forget to share your experiences using the hashtag #100KYourWay. Let the world know about your journey and inspire others to join in the fun!
Got any questions or just fancy tackling the challenge another way? Get in touch at [email protected] and we'll help get you started.
Why should I sign up?
Over 130,000 people in the UK have MS. It's unpredictable, and different for everyone. It's often painful, exhausting and can cause problems with how we walk, move, see, think and feel. But it doesn't have to be this way.
We're driving research into more – and better – treatments. For everyone. Whether you walk, roll, run, scoot, swim, surf or cycle, every pound you raise will help us get one step closer to stopping MS.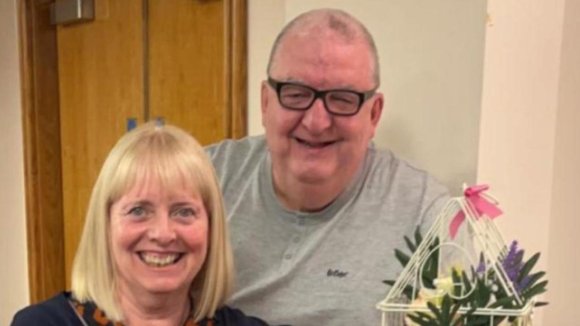 I have always had a love for writing poetry and 4 years ago I decided to combine my passion for writing poems with raising money for charities that are close to my heart.
100 days may initially seem like a daunting task but I have found that the time passes quickly and every time I see a donation being placed it gives me an extra boost and spurs me on.

Roy Kirkwood, writes a poem everyday for 100 days before Christmas!
Download more information