Last week, we took an exhibition to UK Parliament to show Westminster the exciting potential of new MS research and why it's so important for people with MS.
Over 70 politicians from across the UK came to visit the exhibition and hear from people with MS and scientists about their hopes for the future of research.
MPs like Matt Hancock, Secretary for Health and Social Care (whose photo's at the top of this page) stopped by to pledge support to stop MS.
Sharing our unique experiences with MS
The exhibition showed MPs what it's like to live with MS and what new research could mean for our community.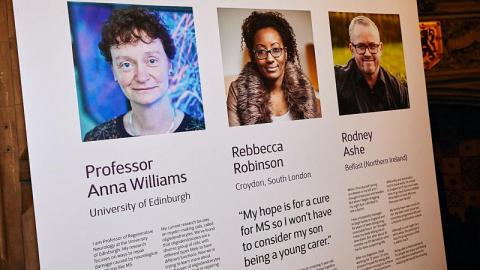 We were hard to miss. Banners in the upper hall at Westminster signposted MPs and visitors to three cases full of objects and stories from researchers and people with MS.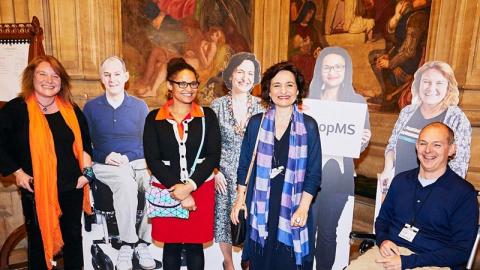 Life sized cut outs of people with MS like Bethen, Liz, George and his personal assistant Alba grabbed attention even when they couldn't be there in person.
Objects that told a story included our ambassador, golpher Tony Johnstone's winning putter, science teacher Liz's lab coat, a scrabble board from mum Rebbecca, presents from Bethan's dad and her best friend and a painting from BBC journalist Caroline Wyatt.
Visit our Instagram to see more photos of the exhibition
Speaking up for Carers
Last week was also Carers Week. So on Monday we jointly hosted an event in Parliament with other charities.
Over 100 politicians came to hear about the different ways they can improve support for carers. We'll keep campaigning and speaking up together about the crisis in care.
Bringing the realities of MS to Westminster
Rodney, who lives with MS, came to share his story at the exhibition launch and at the carers' event. He said "At the MS exhibition, MPs seemed genuinely interested in what we were doing and saying."
"Several told me that if they had simply received documents and information on their desk they wouldn't have taken as much notice, but the exhibition and people with MS being front and centre really struck home to them.
"I think both events were a fantastic way of bringing Westminster's attention to MS, people living with the condition and the researchers trying to stop it."
Get involved
If you're interested in sharing your MS story like Rodney has, then drop us an email [email protected].
For updates about campaigns and how you can get involved, join our campaigns community.