Still relevant in an MS world
Being relevant is many things to many people and I am no exception. 
MS was like a cloak of invisibility
I once was a writer for radio, theatre and satirical clubs. I once wrote a best seller. I once signed a contract to write a play for the West End of London and Broadway. But after one too many MS relapses I stopped writing and it was then I felt – no, I knew – I was no longer relevant.
Having MS was like wearing a cloak of invisibility as I became more withdrawn. Scrambled thoughts, mangled speech and lack of independence meant I was becoming isolated.
Worse still, even though I was once a writer, MS made me forget who I was, what I did, and more importantly, how I did it.
Rediscovering my writing mojo
This went on for several years until by chance I began meditating. Through meditation, I found that I had rediscovered my writing mojo.
Although I wasn't expecting it, I was inspired to write for the first time in far too long. I felt an urge to write a blog about MS.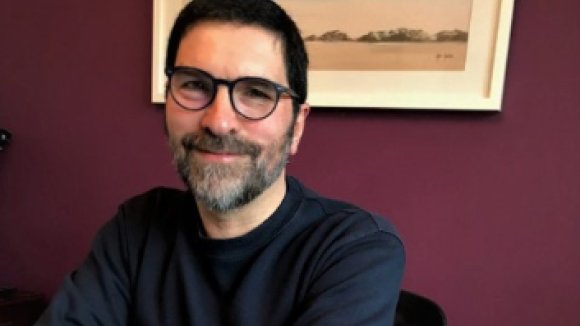 In all my years that was the best acceptance I felt I had ever had. Suddenly I began to feel part of something
Writing about MS
Allowing for slowness and typos, I wrote 300-odd words about feeling guilty for having multiple sclerosis.
I pitched it to the MS Society who said yes. In all my years that was the best acceptance I felt I had ever had. It meant so much and was a catalyst for further MS-related blogs for other MS-related organisations. 
Suddenly I began to feel part of something. I began to feel part of life.  
It had been many years since I last saw anything I had written in print. But that blog has been a life-changer for me in a way I had never considered possible. 
Since then I have rediscovered a purpose, albeit different from the one I had previously known. Where once I wrote satirical sketches and parody songs, now I write about MS and it never gets old.
I've still got something to offer
I'm still the same person living with MS. Yet despite the relapses that make my head hurt trying to get my thoughts in order and make me write at the speed of a glacier, the fact that I'm writing it all makes me feel I've still got something to offer.   
I've discovered – or should that be rediscovered – that I'm still relevant. And this makes me more determined to never again make the mistake of living MS instead of living a life. 
Martin is a writer and literary consultant. You can find out more about his work at martinbaum.co.uk.
Do you have a story to tell about MS? We'd love to here from you. Go to our online form and share your story today.