Raising tigers in Hertfordshire
I was diagnosed with MS at the beginning of 1996. My symptoms came on quite quickly, and unusually, I was diagnosed with primary progressive MS right from the outset.
At the time, my management career at the Royal Mail was just starting to take off. I really didn't want to give up work, but on the Royal Mail's doctor's advice I was given early retirement and a final salary pension. I was 36.
I remember a colleague saying to me, "Whatever you do David, don't sit around. Find yourself a hobby, find something to do."  At the time, I wasn't sure what this 'thing' was going to be.
A phone call out of the blue
A few weeks later, a friend called me up out of the blue and suggested we visit an animal park near where I live. He knew I loved wildlife, and big cats in particular, so we organised a day trip there. It was the Paradise Wildlife Park in Broxbourne, and it was soon to be a place that would almost feel like home.
The day came, and we spent hours looking at the animals and marvelling at the Bengal and Siberian tigers.
A chance encounter
Afterwards, we were having coffee in the cafeteria there, and we got chatting to a man on another table. It turned out he was the owner of the park. I still don't know why, but I blurted out: "It was lovely to see the big cats, it's always been my dream to work with them".
He just looked at me and said "'Well, why don't you come and volunteer for us?"
At that point I disclosed that I had MS. But he said "Oh, I'm sure that won't be a problem. I'll check with our insurance company first and I'll come back to you. They might just need to put certain conditions in place".  
Sure enough, these conditions were as we expected - I was never to be left on my own with the animals, and I would always have to be with an experienced keeper. But actually, when you're working with big cats you're never on your own, it's part of the safety protocol.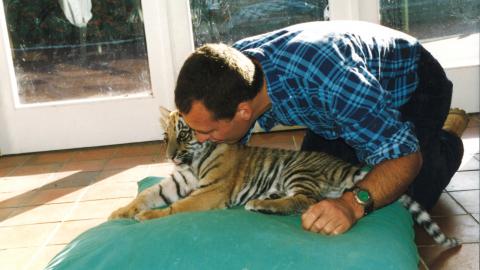 "Tiny bundles of joy"
Two weeks later and I was starting my first day as a volunteer.
I volunteered at the park for one day a week for 5 years, working alongside the employed staff and other volunteers. I got to do everything a regular keeper would do. I helped with the cleaning out, feeding the animals, and even gave talks to the public.
Once I got some more experience I was able to help hand-rearing some of the big cats.
This was my favourite part of the job. When you hand-rear tiger cubs, you take over as mum. You have to feed them every couple of hours, using puppy milk formula. You form a strong bond, and it's for life. They see you as part of their family.
And it's an incredible feeling to see a tiny vulnerable bundle of joy turn into a magnificent adult cat.
In my time at the park, I raised two tigers, one lion cub and one wolf cub.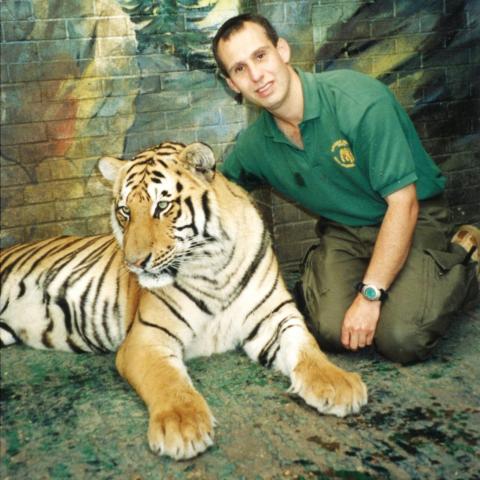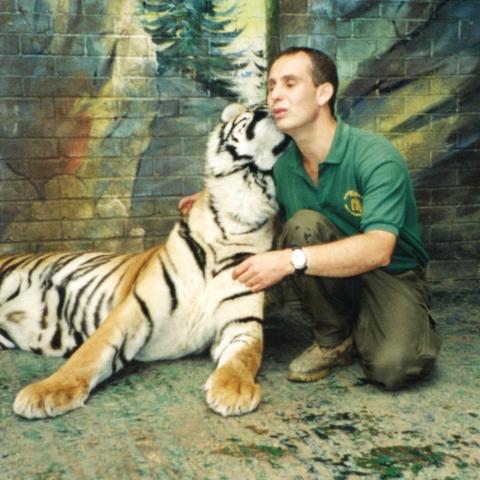 "They sensed I was weaker"
The thing that always fascinated me with the tigers was that they knew they had to be gentle with me. They sensed I was weaker. And all they wanted to do was be affectionate. They were either nuzzling up against me, or resting with their paws on my lap.
I was never scared. But you always have to be mindful that they're dangerous animals. In the blink of an eye things situations can change from being calm and tranquil to the complete opposite. That's why it's important to get to know the tigers, to read their mannerisms and sense what they're thinking.
Eventually I went on to study for my animal management qualification, something that all zoo keepers have to do.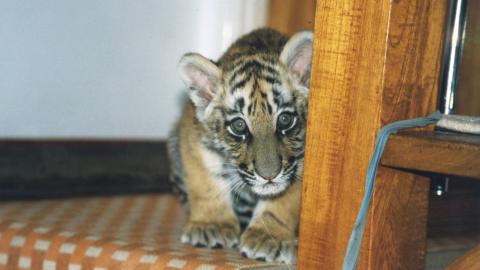 MS doesn't define us
Volunteering at the animal park was certainly a wonderful distraction from my MS. And it also helped me stay active - I was getting plenty of exercise with what I was doing there.
But, after 5 years, it started getting a bit too much. The fatigue was creeping up on me and sometimes I felt that I was starting to shut down. It was wonderful while it lasted, but I had to be sensible. I didn't want to put myself in a position where I had to battle on. So I had to give up my volunteering there.
That was almost twenty years ago.
Everyone with MS is different, and we all cope in different ways. But just because you have a diagnosis of MS, is doesn't mean you can't follow your dreams.
It may take a bit more planning, and you may need to adapt. And you might fail. But that doesn't matter: at least you've tried. And there are so many opportunities out there. Our MS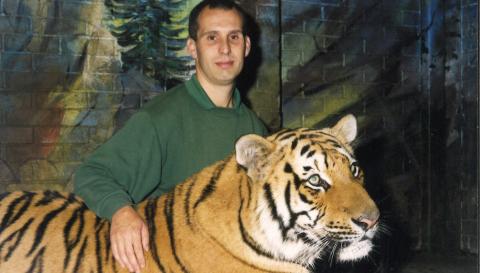 Postscript
One day, some years after I stopped volunteering, I decided to visit the park, this time as a regular visitor. I hadn't been back since I'd left all those years ago, so it was a strange feeling to be there again.
So there I was, admiring the tigers from a distance when one of them – who I'd raised – recognised me. As soon as he saw me he came bounding over, right up to the fence to say hello. As I said earlier: the bonds you make with these animals are for life.