My prima ballerina ballet experience during lockdown
As the COVID-19 lockdown continues we're all learning different ways to do things. Sarah and the MS ballet group are meeting up on Zoom to continue their rehearsals.
When I was a little girl, I used to dance around the house. My parents, seeing my enthusiasm, enrolled me at the local ballet school to see whether I'd enjoy the experience. I loved it.
Dancing all the way to the Edinburgh fringe
Taking weekly dance classes, ballet was joined by contemporary dance, and I tip tap topped it off with tap dancing. I took ballet exams alongside my regular exams and took part in performance pieces at school and in the local community.
I joined a musical performance class and danced my way up to the Edinburgh Fringe Festival. I had dreams of becoming a professional dancer, but my ballet teacher told me I wasn't flexible enough.
University and MS got in the way of dancing
My contemporary dance teacher introduced me someone who said I could become a professional with him after I left school. My mother agreed, but only if I flunked out after my exams. Annoyingly, I kept passing the tests and before I knew it, I ended up in university.
As time passed, I gathered many years of work and travel. I still loved dancing, but it was relegated to an amusing past time. And then bam! I was hit by what I now know is relapsing MS, and I all but toppled over.
With time, picking myself up and dusting myself down, I looked and felt much better but I lost my sense of balance. MS has seen my dreams of dancing disappear.
Royal Ballet partnership lifted me up
When I heard about the MS Society partnering with the Royal Ballet my ears pricked up. Could I be involved in that? I applied and was thrilled when heard that I had been chosen.
It has been the most enjoyable experiences I've ever had. I've loved being with the group, finding out more about the people behind the disability, and experiencing Bim Malcomson's creativity choreography.
The enormity of the pandemic
When I heard that the performance was going to be cancelled and the Royal Opera House was closed I was devastated. Stuck in France when lockdown was announced I wouldn't have been able to get to Covent Garden anyway.
It took a while to understand the enormity of what was happening in Paris, where I live, and around the world. Dancing has always given me a route away from my worries and concerns. I was delighted to discover that the Royal Ballet was delivering free content on their Facebook page and this helped me to while away the hours.
Lockdown challenges
Technology is a marvellous thing to have at your fingertips but also frustrating too. When everyone in a city is online and your broadband instead of flowing sometimes stutters and stumbles, much in the same way as my body.
When I realised that I was going to be stuck in my flat and could not go out when I pleased, I understood, but it was frustrating.
I started to wake up later and later, watching too much news, and felt waves of depression descend upon me. Furthermore I'd been eating too much and exercising too little. It made me uncomfortable.
Joyful news from Bim
Imagine how delighted I was when I heard that Bim, with her big heart and enormous energy, had volunteered to support the MS Society and restart ballet rehearsals? If I could jump, I would have done so!
Now I set up my laptop in one of my small rooms and connect to Zoom where I can see Bim and the rest of the ballet group in their living rooms. Sometimes Bim is supported remotely by one of the other ballet dancers as we stretch, warm up and move.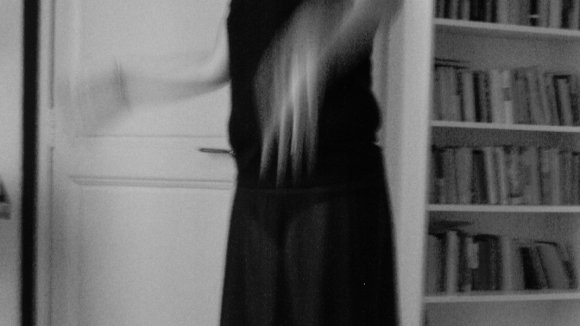 It can be a little ridiculous at times as the very low ceiling means that when I reach my arms above head height I can find myself knocking the lamp shade or touching the light bulb.
Dancing under my desk
Bim is currently working on small spaces choreography which has inspired me to dance in my shower and even underneath my desk. She has shown us that you can find delight, fun and artistry in the most reduced circumstances and for that I salute her.
Immediately after our zoom class has finishes I join a two hour conversational French class. Smiling to myself, I recall the French words of ballet that Bim has just directed through cyberspace.
Try ballet online
If you'd like to try ballet, the Scottish Ballet are live streaming classes for people with MS every Tuesday
Visit the Scottish ballet Facebook page to join in and watch videos of ballet for people with MS
Tell us your own story
No one should have to face MS alone. Particularly in lockdown. Real stories of life with MS help us all feel more connected. And they help us speak up for everyone with MS. Will you share yours?