Living with an owner who has MS - a rabbit's perspective
We hope you're all ears for our special Easter interview with Binky the Bunny. Binky lives with her owner Caroline in Selkirk. Caroline was diagnosed with relapsing MS two years ago.
How did you first meet Caroline?
My first owner couldn't care for me, but happily Caroline loves animals and took me in. She does this a lot!
Now I'm the boss of a big team, which includes dogs, cats, a hamster, a bearded dragon, some fish and even a degu.
It's a lot of work managing all these animals but I'm a natural born leader. I tell everyone when to hop to it.
What's it like where you live?
Selkirk is in the Scottish Borders and is very pretty and peaceful, away from all the hustle and bustle.
We have a garden, which I'm in charge of. I keep it free of weeds. Caroline says weeds are bad news, but I'm not sure why – they're delicious!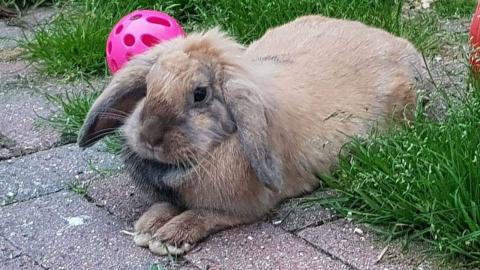 What was it like when Caroline was diagnosed with MS?
She woke up one morning and the right side of her face and her arm had gone funny. She couldn't say the words she wanted to say. It was scary.
Caroline went to hospital and after MRI and CAT scans they told her she had MS. When she first came home I could sense she was very worried about the future. But she's very positive, has some good support and takes each day as it comes.
How does MS affect Caroline?
It mostly affects her right side and sometimes she uses a stick. She can find walking the dogs and cleaning out the cages a bit challenging, but she has people who can help.
She's reduced her working hours from full time to part time, which means we get to see her more and we get more cuddles.
How do you help her out?
Being exceptionally fluffy is one of my key strengths. I know that when she strokes me she feels better, and I feel better too. I like to snuggle into her armpit and get a good scratch and cuddle while we're watching TV.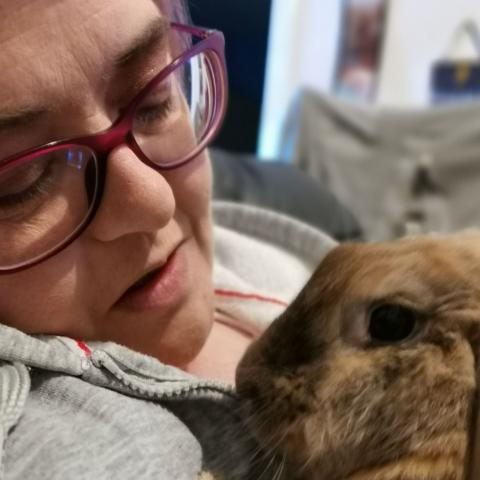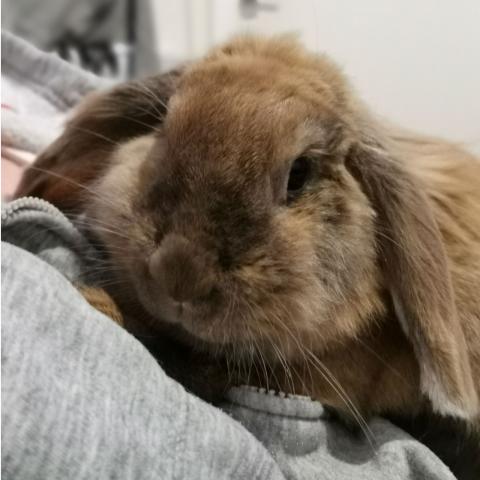 What's a typical day for you?
Managing the dogs and the cats takes up a lot of my time. They're so unruly! I'm always having to chase them around the garden.
I spend a lot of time eating. I'm a real foodie: my favourite treats are kale, carrots, dandelions and popcorn sticks.
How do you like to relax?
It's so great when Caroline takes the dogs out for a walk, and sometimes the cats go along for a bit too. This gives me some peace and quiet. I like to flop out and have a snooze, especially if it's warm enough to lie in the sun.
They often walk along the river, where there are lots of places for Caroline to stop and rest. The cats don't like the river though and come back all too quickly, worst luck.
Still, I do tolerate them. Occasionally if I'm feeling sociable, I'll let the cats hang out with me in my hutch. But not too often. Every bunny knows cats and dogs need to be kept in line.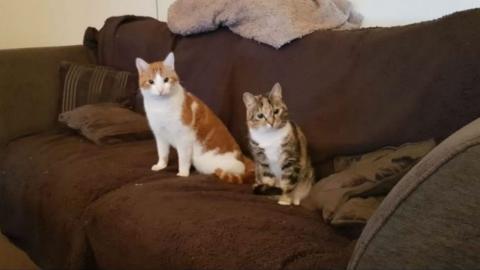 What are you up to for Easter?
I love Easter, it puts a real spring in my hop! For me, it's a chance to spend time with Caroline and the animals and enjoy an extra big helping of dandelions.
Whatever you're up to this weekend, me and the team would like to wish you all a very hoppy holiday.
Do you have a pet story you want to share? We'd love to hear from you! Email us at [email protected].