Life with advanced MS during the COVID-19 pandemic
My wife Portia and I live with advanced secondary progressive MS in our lives. So we were both very apprehensive at the start of the coronavirus outbreak given Portia's weakened respiratory system.
We made an early decision to consciously shield to keep potential sources of infection away. This was before the official GP letter recommending shielding came through much later.
Medical isolation
We felt quite medically isolated at the beginning of lockdown. It was more difficult to get through to the GP as they were so busy. We should have ideally had someone dedicated to check in with us sooner. The district nurses are very good, they're able to come out as needed. The reduced GP access was a struggle.
The NHS 111 service is so difficult to get through to because they're so busy, and often then just refer to the GP anyway. We're left with 999 and, chances are, they'd take Portia into hospital, which we were seeking to avoid if possible during the pandemic.
Daily life in lockdown
The message from the government to 'Stay at home' at the beginning of this crisis was very consistent and clear. And people seemed to stick to it, which was good for Portia. Our thanks go out to all making the individual sacrifices.
At the weekend I support Portia on my own and I tend to do the shop early on a Saturday. I wear a carer lanyard with my 'carer ID' badge and if the queues are long, I can at least be allowed quicker access to then get back to Portia as soon as I can. We're managing to get everything we need, and I carefully manage the risk of going out by wearing gloves, mask and distancing.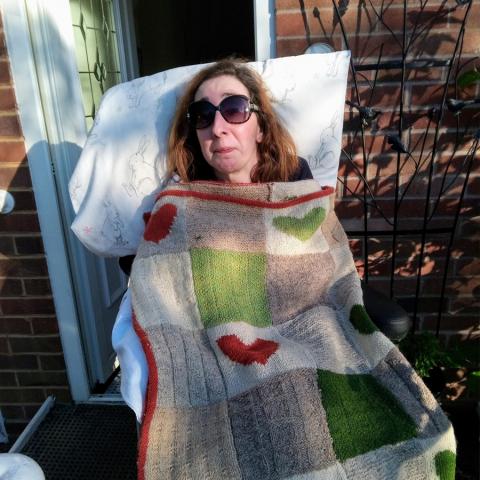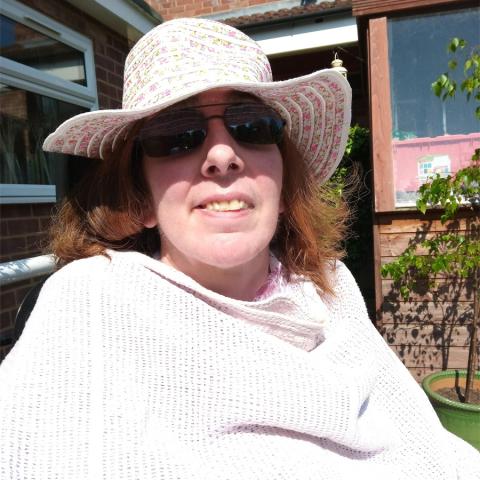 We have a stock of medications, so that's ok for a while and feeding/equipment deliveries are continuing. We've now got the NHS App set up with all the medication for easier repeat prescriptions for the 20 items she needs. Portia needs medication for seizures and morphine for chronic pain related to spasticity in her arms.
Support from my employer and community
I'm still able to work full-time during the lockdown and we have NHS CHC funded carers to assist during the week. My employer is very good and fully supportive. I now work from home and it's very flexible, so I can manage my tasks across the day.
The local community are also really supportive. We've had leaflets through the door from a COVID-19 local response team and our neighbours all offered to help as well. Portia goes to church (virtually now…) so lots of people are actively helping from there as best they can too. We've also discovered Zoom to keep in touch with the wider family who used to visit regularly.
Our message to the Government
The Government and Health Secretary Matt Hancock need to fully recognise that care isn't just about the NHS, it's social care too, and crucially the often hidden family carers. These all work best in an integrated team, delivering the rounded support on the frontline, day in, day out, to the most vulnerable in our society.
This whole care team needs much better support to deliver the best care possible for all in our MS community. And never more so than now, during this major global pandemic.