I was turned into an animation for World MS Day
When I was asked in October 2019 if I was interested in sharing my story for a World MS Day video, I jumped at the chance.
I'd already talked about my MS experiences the year before as part of the MS Connections photography exhibition.
For this film, the MS International Federation (MSIF) wanted people with MS all around the world to record themselves talking about loneliness and MS. The idea was that five people would be picked for the final film, which would tell their stories through animation.
Recording the audio
My first recording attempt didn't go too well. I was a bit stumbly and self-conscious, and when I listened back there was lots of background noise. That's where the duvet studio came in.
I was told that if you record under a duvet, it helps dampen the sound and make it more like a studio environment. So away I went! I got right under the duvet, and recorded my piece for about half an hour. I found it a lot easier when I was under the duvet, I was less self-conscious and felt like I could open up more.
I sent my voice recording off, and thought nothing more of it. But just a few weeks later I was told my story had been picked to be in the final film. I was really chuffed.
The animated me
When I saw the animation they'd made of me, I was amazed. They really captured how I look, even down to the earrings and the Doc Martens boots I always wear.
To create it, they used the photos from the MS Connections photography exhibition, where I'd dyed my hair white. That's why the animated version of me doesn't have my usual pink hair, something my family and friends always point out when they see it!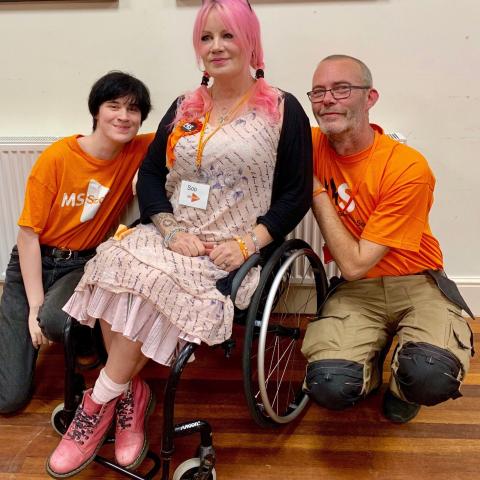 The final video
I thought it was brilliant how all the different stories were tied together in the final film. And I could really identify with the some of the other people's experiences. There's a bit where Eliana from Columbia talks about how MS makes her feel rejected by society, and the animation shows doors being shut to her. That really struck a chord with me, as that's exactly how I felt when I was diagnosed.
But most of all, I love the message the film gives. That everyone has darker moments but we can get through them and come out the other side.
Because actually we're not all on our own. We're all together. And we can do this.
Watch the MS Connection film (2020) on YouTube
Make MS connections
Living with MS can leave people feeling lonely and isolated. Our forum is full is a welcoming place full of people who know life with MS. 
Make a connection on our Forum today
We updated this blog on 16 May 2021