How we live with MS as a couple
Steve Grant and Ara Grigor met when they were performing in a wedding band together. Ara was diagnosed with MS in April 2018, and the two became a couple later that year. They talk about living with MS, and how it's brought them closer together.
How we met and Ara's MS diagnosis
Ara: We were good friends for years. It was only when I had to stop performing in the band because of my MS that we started spending more time together and became a couple. We were so busy in the band playing late nights every weekend and although we loved it, it was really nice to spend time with each other in a social way.
Steve: Music is a passion we both share. Although we had to stop performing in the wedding band, we are now playing acoustic music together, just the two of us. It's nice because it's on our terms and we can arrange to play when it suits us and Ara's health.
Ara: Because we were friends before I was diagnosed with MS, Steve knew I was unwell and that I was attending appointments to try to figure out what was wrong with me. That made it easier when I was diagnosed - I didn't have to take him aside and tell him what it was, as he was there throughout my journey. MS is a big thing to take on, as it affects him as well.
 I never questioned if I wanted to get involved romantically with someone with MS. It never even crossed my mind. Ara's qualities completely outweigh any of that - Steve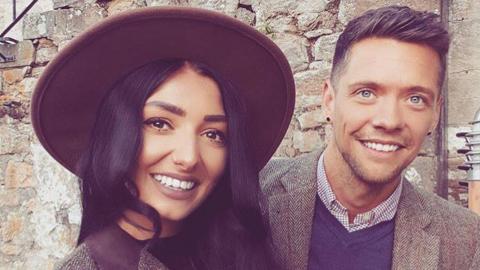 The challenges of living with MS
Ara: Until you're in a relationship with someone with MS, you don't know how it will be. It's only now we're living together that it's become more obvious to Steve how it affects me. Steve has to deal with things he might never have expected, like changing plans all the time and seeing me at my worst.
Steve: I do love a plan! But I've changed that quite a lot since we've been living together. We don't make concrete plans anymore, and if we're not able to go out then I'll bring the party to Ara. It's all about compromise.
Ara: That's important because MS is so unpredictable. I can be okay one minute and then absolutely floored the next and can't do anything. I used to put a lot of pressure on myself because I didn't want to let anybody down. But now if we can't do something, we'll have a date night in the house instead, play music and chill out.
MS means we don't take anything for granted. So, if we do manage to go out on a date, we have the best time ever - Ara
Steve: It can be difficult sometimes to see Ara, who has a personality that is so vibrant and full of energy, not able to do the things she wants to do. I feel very privileged that I'm able to see that, because it shows how close we are.
What helps us deal with MS
Ara: It's all about learning about the other person, being open and listening to each other. I used to suffer in silence a lot of the time because I didn't want to worry anyone, but I realise now it's better if I am honest about how I am feeling. My MS symptoms are mostly invisible, so I can put on some make up and look fine, even if I'm not. Communication is key!
Sometimes it's okay not to be okay. If Ara needs to rest, she knows she can do that without any explanation - Steve
Ara: It's helpful if the partner of someone with MS learns about the condition. This helps them to understand symptoms and triggers, which otherwise could be quite alarming. There are ways to get around it and live the best life you can together.
Steve: I did a lot of reading up about MS on the MS Society's website, so I could understand more about the condition. That helped a lot. And I've learnt even more from attending Ara's appointments with her.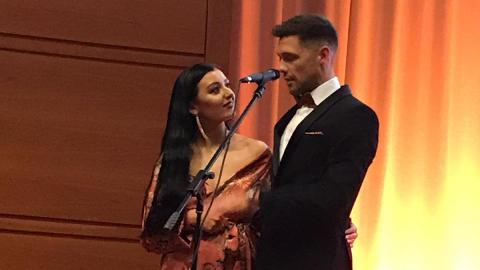 MS has made us stronger as a couple
Ara: We don't take anything for granted and we're a lot closer. We've done so many things together in a relatively short time.
I never thought I'd be able to walk 24 miles, but we completed a Kiltwalk together! We also put on a Christmas concert last year to raise money to help stop MS - Ara
Steve: It was our first live performance as a duo, it felt amazing. Ara supports me in many, many ways. I've got two children who stay with us often and she spends so much time with them. She puts in a so much effort even on days when she is really struggling. This means the world to me…and them.
What we love about each other
Ara: Steve is just the most wonderful and gorgeous human being in the world. When it comes to how I'm feeling he's so understanding and kind. We're best friends and I couldn't be without him.
Steve: Ara is so beautiful inside and out, she's the kindest person I know. She is so caring and always thinks of other people. When it comes to supporting her with MS, I'm not consciously trying to be anything other than there for her. She's the person I love, and I just want to make her happy.
Read our booklet 'For family and friends – when someone close to you has MS'
Will you join Team Stop MS?
We're the closest we've ever been to treatments for everyone. We can see a future where no-one needs to worry about their MS getting worse. To get us there we've launched our biggest fundraising appeal yet and we need your help.