How I'm managing anxiety during the outbreak
Craig Herbert co-facilitated our webinar on managing anxiety during the coronavirus outbreak, sharing his experience as a person living with MS.
I'm very much a people person, I enjoy social interaction with others and I'm missing being able to do that right now. Trips with my wife to the local supermarket for our essential messages have become a real source of anxiety.
By the time we've queued, got our disinfected trolley, kept our distance from our fellow shoppers and queued again at the checkout, I sense my breathing becoming shortened. I get fatigued, feel angry at the situation I'm in and just want to go home.
Things that can help us cope
Maybe you haven't been able to get out to the shops, but I'm sure these kinds of feelings will be familiar to many of you right now. Perhaps you have concerns around finances, your health or those you love.
During the unusual times we currently face, there are strategies that can help us cope both physically and mentally. Here's some skills and techniques that help me, and that might help you too.
10 tips to help with anxiety
1. Taking long slow breaths, as well as visualisation techniques - A visualisation might be a trip down memory lane to a special occasion or summer holiday. I imagine sitting on a golden sandy beach with the gentle waves lapping on the shore and the warm sun on my back, bliss.
2. A distraction might also help - A distraction that helps me is plugging my headphones into my phone and playing bagpipe music. The sound of the pipes always lifts my spirits and gives me an inner strength.
3. If you get anxious while going round the shops, listening to soothing music on your headphones might help. Or put some of your favourite perfume or aftershave on your collar so you can smell these soothing scents as you shop.
4. Sticking to a routine everyday - I get up around the same time each morning and go to bed at a reasonable time each night. I don't sit up into the wee small hours, as I would still in bed at lunchtime and our puppy wouldn't wait that long for his breakfast!
5. Dressing for the social life you want, not the social life you have - For me, that means wearing baggy jogging trousers if I'm staying home that day. Or it could be jeans and a shirt if I'm going to get out.
6. Developing a self-care toolkit - Try using one thing from it each day. A toolkit might include things like a body scan technique, using and saying a positive mantra or eating a balanced diet.
>> Have a listen to our Mindfulness podcast, which includes a body scan. And you can read our information page on mindfulness and MS
7. Lowering expectations and practice radical self-acceptance - We have to become realistic with ourselves in what we want to achieve and what we can actually achieve every day. It's OK under the current pressures to have a bad day, we still have to like the person we are.
8. Limiting social media and COVID-19 conversation - We are the social media generation where all can become experts in every topic without any real factual evidence. Don't get sucked in. In my house if the kids come with a piece of news firstly we listen to it, then ask them to investigate where the source of that story came from. This is about empowering them not to believe all they see and hear. Be honest with your kids and loved ones. This pandemic is temporary and one day things will be normal again.
9. Reaching out for help - Your support team is there for you. Your support team is anyone who will help physically or emotionally in times of hardship, that will include professional support as well. For me my wife and family form the foundations of my support team and I add to that as and when required.
10. 'Chunking' your quarantine -  Take it moment by moment, one day at a time. Do the best you can each day and remember if the best you can do today is to have a duvet day, that is OK. Remind yourself daily that this is temporary. The current restrictions on our lives right now will pass and before long we'll emerge from our cocoons. It can also help to notice the good in the world, the helpers.
You're not alone
If some of these hints and tips feel supportive you might want to give them a try! They've helped me to gain a deeper understanding of my own mental health.
However if you find your anxieties and feelings become overwhelming, please don't suffer alone. The MS Society's MS Helpline is a great source of advice and support. Or your GP or MS nurse can listen and signpost you to the best services available.
Looking for emotional support? Contact our MS Helpline on freephone 0808 800 8000 or email [email protected]. We're here Monday to Friday, 9am to 7pm except bank holidays.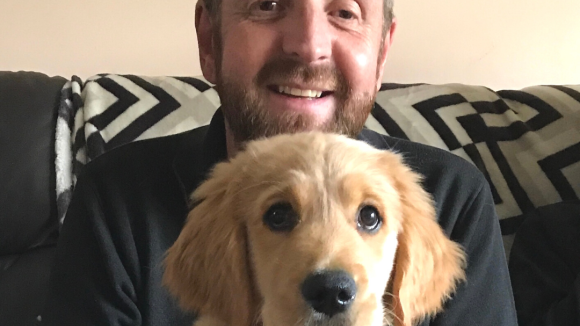 Notice the good in the world. Remind yourself that this is temporary. And remember, if the best you can do today is to have a duvet day, that is OK.

Craig Herbert