Getting out in the world - a trip to New York with MS
When I was diagnosed with MS my world shrank. I imagined I was confined to the distance I could walk, which wasn't far.
But in the last three and a half years, I've been slowly learning to accept my diagnosis. And as I've accepted it, I've started to dare to imagine getting some of the life I thought I'd lost back.
No going back
I've always wanted to come to New York. My husband and I have been planning a trip since the early 2000s, but then I got pregnant with my first child and our plans were put on hold. Now our children are slightly older, we decided that we should put it off no longer.
With some trepidation (we've never flown long-haul with the children, and I had a niggling feeling that this is really not the sort of thing I should be doing) we booked our flights and hotels last year. There was no going back.
Planning a trip with MS
Although I'm generally pretty disorganised, I do love a plan. I realised that if we were going to stand a chance of making the trip work, we needed to work out the most efficient way of doing everything we wanted to do.
I used the Citymapper app on my phone to map the routes between all the places we wanted to go, to make sure I didn't have to walk too far. And I planned all our activities so that there would be an opportunity for a good sit down after every bit of walking.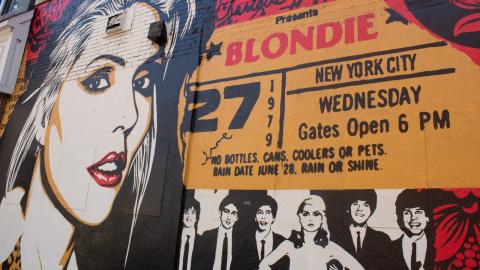 Organising airport assistance
Because the airport is so big, I was worried that before we even got to New York I wouldn't cope with the walking distances involved.
I'd seen the dinky vehicles driving people around the airport and always assumed you'd need to be a wheelchair user to travel in them but that's not the case. I was really relieved to find that because I can't walk far I'm able to access special assistance, which I booked through my airline.
The process is a bit confusing as they're not massively informative about what the various options for assistance actually mean. I chose WCHR (wheelchair ramp) which is for passengers who can manage steps but can't walk far.
I was driven on a little truck from just past security to the gate, and taken straight to the front of the queue and onto the plane.
I'd recommend to anyone with MS to seize all the help that's available to you to live as fully as you are able. Let your world stay as big as it can.
Arriving in New York
On arrival in New York, a wheelchair was waiting for me at the door of the plane. I was wheeled directly to passport control, past a long queue. I definitely wouldn't have been able to stand for long enough to get to the front of it.
Normally after negotiating two airports I would have been exhausted, but I had enough energy and strength in my legs to spend the afternoon exploring the area around our hotel.
The importance of flexibility
We had a detailed itinerary for every day of our trip, however we didn't always stick to the plan. A couple of days were very hot and we missed things out so I could rest more.
I found the best way to approach the holiday was with a combination of extreme planning in advance, but being extremely flexible when there.
We saw everything we wanted to see, all the classic sites like the Statue of Liberty, Central Park, the High Line, but at our own pace.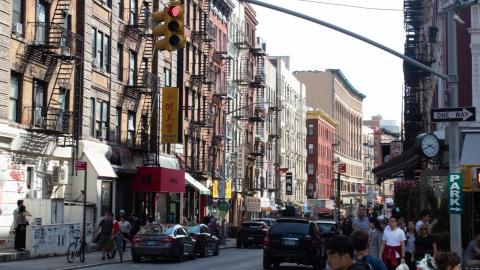 Wheelchairs, accessibility and art
Even with public transport, I had to walk a lot more than I'm used to. I found the people in New York more than accommodating for me and when they saw my stick I was waved through to the front of queues or allowed to use lifts instead of steps.
In MoMA - the Museum of Modern Art - I was able to use a wheelchair, something that had never crossed my mind as a possibility before. I would have had to cut our visit short otherwise, so it was definitely worth it.
It's something I will definitely be using where possible whenever I visit a museum or gallery in future. I find the slow walking and frequent stopping particularly tiring and so I usually don't spend as long as I would like looking at exhibitions.
Being able to use a wheelchair would totally change that. I actually feel quite excited about the possibility of days out in the future that I'd assumed would be impossible.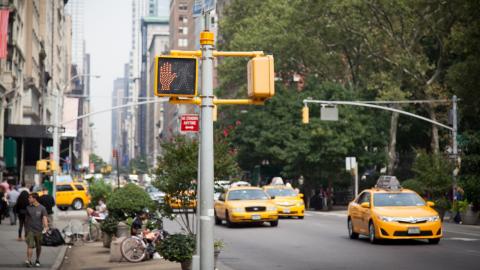 "I'm so glad I didn't give in to my fears"
Going to New York was an amazing experience, and now we're back I feel so happy that we went. In the final run-up to the trip my husband and I kept asking each other if we should really go. I felt as if I'd almost be glad if the holiday was cancelled and I could just stay at home, but I realise now that that feeling has kept me from doing a lot of things over the last few years.
I'm so glad I didn't give in to my fears. I have so many happy memories of the things we saw and did. I hope I can translate that into my life back home and be brave about doing other things that feel a bit scary.
I'd recommend to anyone with MS to seize all the help that's available to you to live as fully as you are able. Let your world stay as big as it can.
Rachel lives in London with her family. You can read her MS blog at fallingandlaughingblog.com.