Gardening without a garden
Spending time in gardens and with greenery can be great for our wellbeing. If you don't have a garden, there's still lots of ways to enjoy flowers and plants. Read how 3 people living with MS have got creative to connect with nature.
Shana's been transforming empty spaces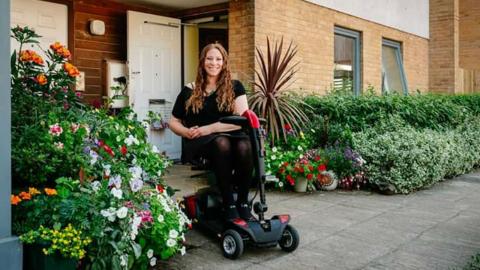 From an early age I've enjoyed gardening and plants. When l moved into my wheelchair accessible flat, everyone was worried that l'd no longer have 'a garden'. I told everyone not to worry…I could see empty spaces!
I've planted some pots around my front door, and I have a balcony filled with plants and flowers. With permission from my housing association I've also brightened up a corner of the carpark.
At lockdown I thought, screw toilet roll, I'm stockpiling plants. I've been going out at the crack of dawn when no one's about to tend to the carpark garden. I want everyone to be able to see colour and life from their window. And my balcony has become my isolation haven.
Noor's brought the outdoors indoors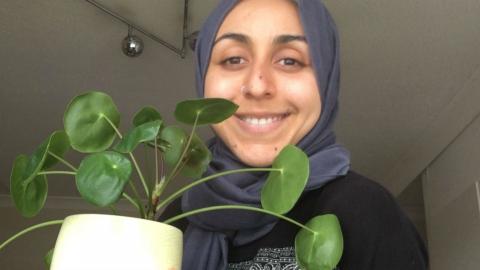 I love a houseplant and as I don't have a garden, I feel like I need to bring the great outdoors to my living space. I've been working from home as a therapist since the start of lockdown and being able to look around and see some greenery really brightens my day.
I have several succulents and plants that need infrequent watering which means it's a lot easier to keep things alive. I can't say I'm an expert, but a squeeze of a tea bag into an orchid goes a long way!
Karine and Sarah's balcony is home to herbs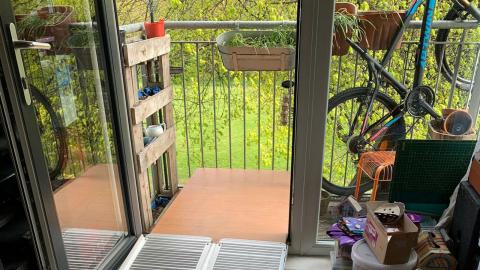 My wife and I have been shielding for over 100 days. After about a month, I was starting to feel trapped. We have a balcony where my wife could go out for air, but it wasn't accessible for my wheelchair.
My wife is an incredibly talented maker and crafter so she asked friends to forage for materials and she built a platform so I could join her on the balcony. Since then we've planted wild flowers and herbs – it's a lovely space to spend time.