What is it about coming out that's so hard? What are we hiding from? I've thought about this a lot over the years since I've had to come out three times.
Making my debut
The first time I "came out" was easy, it was a big party. My mother was a volunteer at the Brooklyn Junior League, a kind of urban WI group.
The New York Junior League has a black-tie winter ball every year which used to be about presenting young women to society. It was essentially a debutante, or a 'coming out', ball. My mother was a middle-class Irish descendant who thought presenting her daughter at this fancy ball was a wonderful idea.
It was during my first term at university, but I agreed to indulge her. So, the first time 'coming out' wasn't particularly painful. I had three escorts and a fun night out partying until dawn.
An accidental outing
The second time I came out wasn't pre-planned or well-timed. I'd come to the realisation I was a lesbian during my second year at university and was about to take a gap year in London. It was summer and I was visiting my best friend from high school in Manhattan when I got a very agitated call from my mother.
I assumed someone had died so I came home right away. It turned out she'd read a postcard I'd left out to post to my newly 'out' cousin about my trip to visit her.
My mother sat me down and lectured me for ages about the immense damage I was doing to her, my father and myself (I hadn't even kissed a girl yet!). My father and I didn't really speak for 6 years after that night, when my parents redeemed themselves by inviting my partner to Christmas.
So, coming out the second time was painful, scarring and very unsettling. However, I felt great about being out and had fun exploring what being a lesbian was all about.
As it ended up, I met my partner in my second month in London and we just celebrated our 35th anniversary! So, I didn't do a lot of exploring of relationships after all.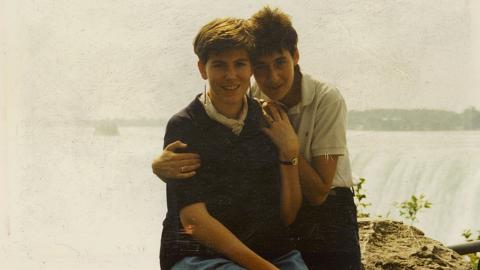 Coming out to help stop MS
The third time I came out was last year. Although I was diagnosed with MS in 2005, I hadn't really come out about my diagnosis until last September. I was fundraising for the MS Walk in Battersea Park with my local group I helped start in West Central London. I decided to 'come out' to my neighbours on our group email so I could fundraise for our team's walk. I'd never really accepted my diagnosis or wanted to 'own' it.
My uncle had progressive MS and was in a wheelchair for most of the time I knew him. My immediate family and friends knew about my diagnosis but I didn't talk about it with others and made excuses about a bad knee whenever I was walking slowly or fell over. I also didn't want to worry our daughter.
Coming out with an invisible illness
I've thought about all the reasons I didn't face my MS 'coming out' earlier. There's a definite stigma with any disability and it's hard to explain an invisible one.
I hated being pitied, getting the cocked head and 'oh dear' response, followed by: 'my friend's mother/sister/aunt had MS and died too early'.
I told my employer but not all the people I worked with.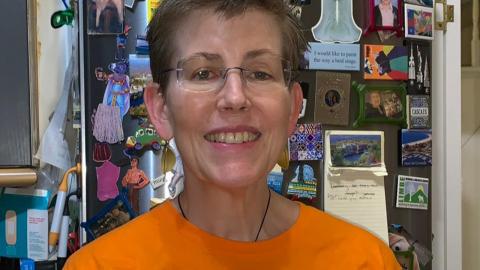 I'm not drunk I have MS
I had a little breakthrough when the company I worked for did some work with shiftMS. It was great to 'see' others who were facing MS like me. Then I had a few encounters with strangers who commented on my balance issues thinking I was drunk. My response was to get badges made saying "I'm not drunk, I have MS" (the badge maker now also makes badges that say, "I'm drunk AND I have MS").
When I was contacted by the MS Society to ask if I wanted to re-start the local group in my area, my sense of denial decreased and my level of acceptance increased.
I've now been an active local volunteer for two years and a MS Society Trustee for one and a half years. I successfully applied for PIP, have a blue badge for our car and I'm in the process of applying for a parking bay outside our house.
I accept my disability AND I have an active life with four demanding volunteer roles.
It was a long time coming, but I'm very glad I finally 'came out' about having MS.
#LetsTalkMS
This MS Awareness Week (19-25 April 2021) we're saying #LetsTalkMS. MS can be tough, and for many people talking about it can be challenging. Help start a conversation about MS – share your story
Ways to talk MS
Our online sessions and webinars are a great way to connect online. You can also join the conversation at Facebook, Instagram and Twitter. And our MS Helpline is here for you, offering emotional support and information.