Carols, candlelight and Kit Harington…
Tucked away in the heart of the city lives St. Botolph-without-Bishopgate. Guaranteed to turn heads anytime of the day, the near-hidden church dates back to 1729. And it's even more  beautiful by candlelight.
At the beginning of December, in the pouring rain and howling gales, we held a star-studded carol concert in the City of London. We sold tickets to fund the Stop MS Appeal and invited some lovely high profile supporters to come and give readings. And they came!
Stars come out for MS
It's part of my job as press officer to look after our celebrity guests at events. It's always a pleasure but this night was extra special. There were so many big names we were featured in Tatler, Stylist and HELLO!, making us one of the hottest events that evening with press photographers and all the attendant buzz.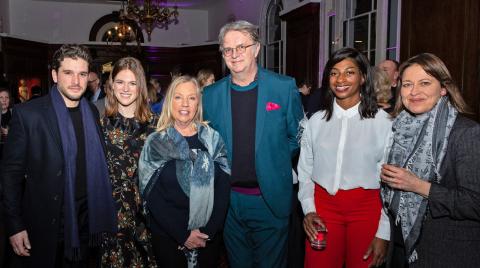 Game of Thrones meets a real dragon
Our Ambassador Kadeena Cox MBE welcomed everyone to St Botolph's, talking about her MS and what it's like as an athlete when you 'don't look ill'.
Then Game of Thrones actors Kit Harington and Rose Leslie, comedian Paul Merton, businesswoman Deborah Meaden and actress Nicola Walker gave readings that were by turn moving and funny. You can probably guess who I thought was funniest.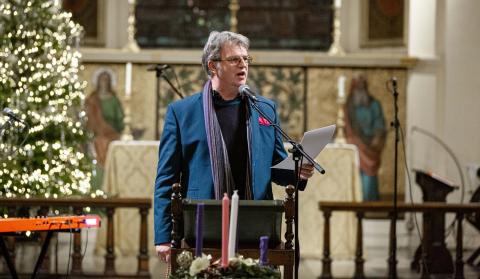 Singing to stop MS
Our congregation and two choirs sang their hearts out, with gospel numbers and traditional choral performances.
And the IDCM Soul Gospel choir were joined by the Voice's Jermaine Jackman!
Missing my mum
With an Oscar-worthy celebrity reader line-up, soulful singing, mulled wine and warm mince pies, our Carols by Candlelight had all the ingredients to make it a highlight of 2019. But, while it didn't disappoint, it was missing something incredibly personal to me… 
"MS means 'Make 'Em Smile" she'd say.
My mum lived with secondary progressive MS for 21 years. For over two decades she looked down the barrel of the condition and continued to smile. "MS means 'Make 'Em Smile" she'd say.
She'd be smiling even when her words got muddled, when she lost the movement in her legs, (and then hands), and when her fatigue was so extreme she could hardly open her eyes. She smiled even though there was no hope.
So, while she couldn't be there, I made sure I smiled just that bit more at the crowd of people who came out on Tuesday 10 December to back our bold mission. Because together we can stop MS.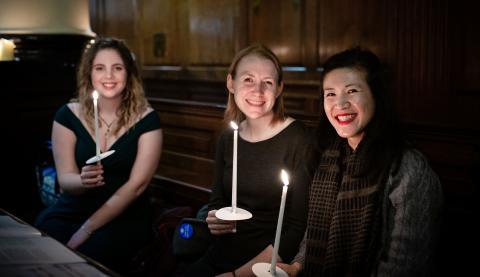 Will you help stop MS?
We're the closest we've ever been to treatments for everyone.
We can see a future where no-one needs to worry about their MS getting worse. To get us there we've launched our biggest fundraising appeal yet and we need your help.
Together we raised £12,000 to stop MS at the carol concert, will you chip in more to help us reach our goal of £100 million by 2025?