Balancing baby, yoga, MS, and mindfulness in lockdown
Since the lockdown happened, my partner and I – and our young son Hector – have been on strict self-isolation.
Muddling through
We've been trying to muddle through new parenthood and new routines at home. We try working it out through trial and error, on a weekly basis. It seems to be working great at the moment. But it definitely took us some time to adjust to the new rhythm and pressures of self-isolation.
No problem keeping busy
Hector is nearly 19 months old, and it feels like in the last few weeks he's grown up so much. He's blurting out more and more words and it's so special when he says a new one. Currently loving 'Turtle' and 'Lemon'. Being a new mother with MS is ever changing, hard work, and totally incredible. What a joy!
People are trying all sorts of things to help occupy the time since COVID-19 started. Looking after a child is certainly one of them.
I think what's been really useful for us is to have a clear timetable. And it's been really fun to have a theme with Hector each morning, like music morning or finger painting outside. But I've also found it important to book time to look after myself, have a nap or potter in the garden.
Guided meditation
Every morning, I use guided meditations to lift my mood and spirits, and prepare for the day ahead as a new mummy.
Realistically, this means I wake up in my pyjamas and sneak into the lounge with no lights on, and close my eyes, just to be still before the day unfolds.
Guided meditation helps me be present with Hector, and I see this reflected in his mood. It also lets me focus and clear my mind before my yoga practice. Yoga really helps me, especially if I've been feeling a bit 'poorly' and fatigued that day. I'm a yoga teacher and I've seen how it can help other people too.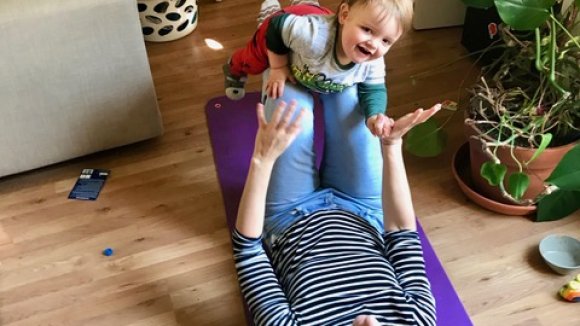 Here is one pose we have been practicing at the moment - the "Mother and Baby Super Hero" pose!

Laura Thorne
Energy for the important stuff
Having Hector during lockdown makes life a lot more lighthearted, but you do have to keep him entertained. And this leaves me feeling absolutely shattered before lunchtime.
Sometimes, I have to prioritise my relaxation. Over-promising on the schedule leaves me feeling really disappointed, so I plan my rests too. This is something I learnt on the FACETS fatigue management course run by my MS team. Frustratingly, we didn't get to finish the last session because of the virus lockdown, but there is an online version of the course for anyone to use.
We've started doing mother and baby yoga together which has developed our bond even more. And I can do it all lying down, which saves my energy to do what I need to do. Daily tasks can be so distracting, but it's more important to me that I have energy to read our bedtime stories together.
Stay safe, super mums
One thing I think Hector misses are his friends at nursery. He looks longingly at the other children who play in the park with their siblings! Fun is the key, it's all about focusing on the fun. We get outdoors early when there's no one around.
Who knows how long this lockdown will last, but I know there are loads of super mummas (and daddas) out there. Stay safe!
Watch Laura lead our Yoga for MS videos