A week in the life of an MS family during the COVID-19 pandemic
Like many in our community, Delia and her family are self-isolating to protect themselves from COVID-19.  She shares a week in the life of a family in lockdown.
Our household
I live at home with my husband Nick. Joining us are my son Edward, my daughter Roberta and her boyfriend Stuart, our friend Diane, and Barley and Daisy our dogs. My daughter and I have MS and I'm also a wheelchair user.
I was 15 when I was diagnosed with MS. Until I was about 48 I was relatively un-affected by the condition. That's when things started to take a nosedive and I ended up in a wheelchair not able to use my legs at all. A few years later my left arm also became affected and I was unable to use that.
My life with MS
Despite all this I live a very full and active life, going out doing charity work and meeting friends. I don't feel sorry for myself at all because I genuinely believe this is a situation where I have absolutely no choice. I would much rather be cheerful and get on as best I'm able.
When Roberta was diagnosed with MS I was devastated. When one of your children is unwell or is struggling with something it truly pulls your heart apart. She was referred to a consultant in London and had some treatment very quickly.
Today, we all discussed how we were going to manage. We decided that respecting one another's privacy and mental health were the most important, as we would be sharing the same space again for the first time in ten years!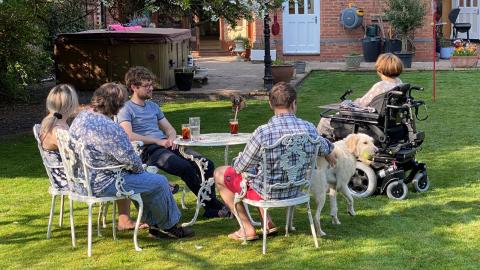 Day one: Here we go
The first full day of self-isolation dawned bright and early. Keeping in contact with friends is important to me so I made a number of calls to catch up with everyone.
Nick, Edward, Roberta and Stuart spent the day working.
We also sorted out the jobs that need doing in the house. It makes me feel dreadful that I'm unable to help the general effort, physically at least. But I am trying to keep everyone's spirits up.
Day two: Another day another dollar!
Today I suggested we meet for a cup of tea at 3:45 in the garden. Guess what? It was raining! So instead we opened the doors and sat with the fresh air coming into the family room!
My dear kind friend Linda phoned me to tell me there was a parcel outside. She had bought me a hot water bottle for my neck. Like most people in a wheelchair I get very cold and so rely on hot water bottles and wheat cushions to stay warm.
Day two of the strange new world is now coming to an end.
Day three: It's a grey day
It must be very strange and uncannily quiet in the wider world. Even the trees are very still as if they know what is going on! Everybody's scared and there are rumours flying all over the place.
It was quite surreal when Laura arrived with our shopping, as she stood six feet away from us when we went to the front door to get the bags.
I have to confess that today I have been a little bored! But tomorrow things are going to be different. Watch this space!
Day four: Doctors, dogs, and dining!
Last night when I was in bed I felt a pain in my side. In the morning Nick noticed a rash round my side to my back. I suspected it might be shingles so Nick took some photographs to send to the doctor.
Even though our NHS is being stretched like never before, the doctor phoned me back to confirm it and prescribed some medicine which the chemist is dropping here later. I know that everyone is saying how wonderful the NHS is but I've got to say it too.
Roberta and Stuart are going out for a run every day, as is Edward, which I think is so very sensible. Also the dogs are getting good walks which of course they really enjoy.
There are a number of positives about being forced together for long length of time. First of all we are finding strange things to entertain ourselves. Another positive is that we are really eating to the bottom of the freezer. This is desperately needed so I am very pleased.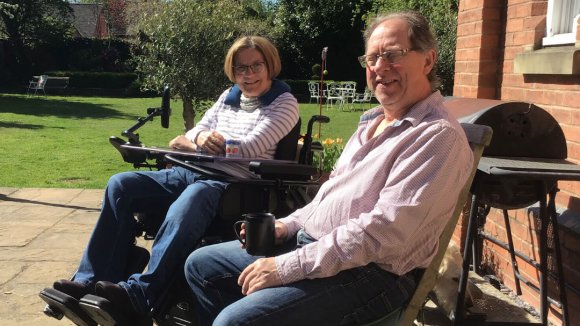 I don't feel sorry for myself at all because I genuinely believe this is a situation where I have absolutely no choice. I would much rather be cheerful and get on as best I'm able.

Delia
Day five: Is it a better day?
I had a brilliant night's sleep and woke up this morning feeling better but not 100%. As it was Saturday, Nick and I decided to have a lie in listening to the radio.
The usual then followed...showering...getting up and having breakfast. What exciting lives we are leading at the moment!
I'm making extra effort to phone friends who don't have family. I also volunteer for Silverline which supports lonely older people by pairing them with a friend to call them each week.
Day six: What an exciting life!
It's Mothering Sunday today and I thought it would be nice to take afternoon tea over to my parents. They sat on a bench drinking tea and eating the cake and sandwiches we had brought. We sat in the car on their drive with the windows open and chatted to them, or I should say shouted at them!
Day seven: Same old, same old!
I'm trying to think how I can make things a little bit different today, but sadly I can't as today is like every other day.
The household met for lunch and then everybody disappeared again to get on with their work. I spoke to one of the elderly ladies from church who is unwell; she seemed pleased to hear from me. I wish I could get out there to deliver shopping or pick up prescriptions or do one of the thousand jobs. Never mind, I'll keep phoning my people who may need my support.
The news tonight was not good, the whole country has gone into lockdown. There are exceptions and they include going for one form of exercise a day either walking, running or cycling, going to the pharmacy and getting provisions.
Guess what? Yes, we all went to bed